---
A Day in the Life of a Park Ranger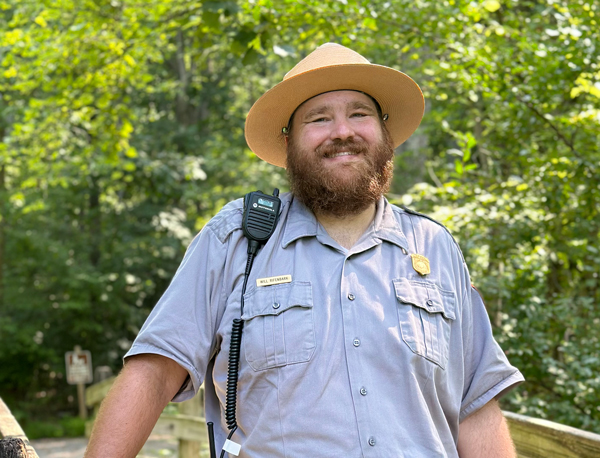 Jul 28, 2023
From relocating animals to helping children earn their Junior Ranger badges, no day is ever the same for Will Rifenbark, park ranger at Wolf Trap National Park for the Performing Arts
For the Children's Theatre-in-the-Woods crowd, Park Ranger Will Rifenbark is a familiar face–even if you don't know his name. He's the bearded guy in a hat whom you see driving patrons to the theater in a golf cart or greeting families at the bridge before a performance. He's in charge of keeping Children's Theatre-in-the-Woods running so that guests can enjoy the arts in the Park's natural surroundings. This year marks Will's 19th summer on the job. How does one become a Park Ranger? What does a typical day look like? Find out below!
Wolf Trap: How did you become a Park Ranger?
Will Rifenbark: I started, as many do, in the National Park Service (NPS) by volunteering and
then later getting a seasonal job, both at Children's Theatre-in-the-Woods. After four seasonal summers at Wolf Trap National Park for the Performing Arts, I joined the Peace Corps and went to Nicaragua and when I returned, I applied for a career seasonal position. Six years later I applied to become a Park Ranger.
WT: What does a typical day look like for you?
WR: A typical day at Theatre-in-the-Woods involves four staff: preparing the theater, loading in and out the artists and their gear, making welcome announcements and closing remarks from the stage, taking visitors on ranger-led themed walks and talks, and resetting the areas [to be ready for that night's] for Filene Center shows.
WT: What is the most unusual thing you've had to do in your duties as a Park Ranger?
WR: I relocated a young raccoon that was trapped in a stagehand restroom inside the Filene Center. I also once removed a juvenile copperhead from the NPS Superintendent's office!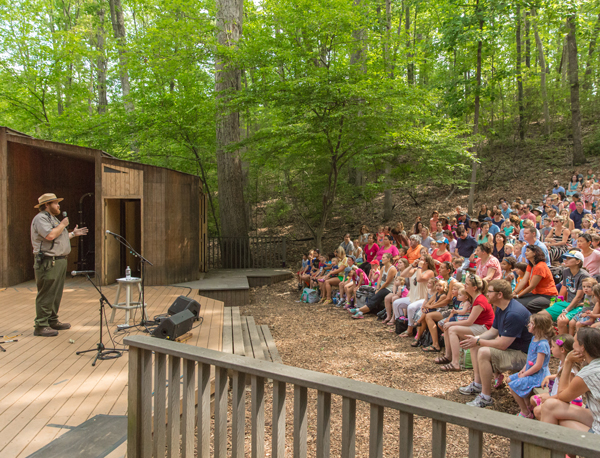 WT: Have you had any other cool encounters with animals at the Park?
WR: I've seen a number of cool animals over the years, but the most unique was a wild turkey sitting on top of Ovations Restaurant one fall evening before I startled it and it flew away to the Meadow.
WT: You spend a lot of time supporting Children's Theatre-in-the-Woods and keeping it well-maintained and accessible for guests. In your opinion, what makes Children's Theatre-in-the-Woods so unique? Why do families return year after year?
WR: Children's Theatre-in-the-Woods provides an experience to see the performing arts in a natural setting and is a tradition for many families in the area. I once had a family that was made up of four generations at a show and they spoke of bringing their children over the decades and [how excited they] were to expose the newest generation to the wonderful venue and experience.
WT: What do you hope families take away from their experiences at the Park?
WR: I would hope that families take away a love for the performing arts and our natural spaces that the NPS preserves and protects for future generations.
Wolf Trap's Children's Theatre-in-the-Woods offers programs for families Tuesdays through Saturdays at 10:30 AM throughout the summer. After each performance, the Park offers "Stay & Play" options, spaces for picnics, and Park Ranger-led trail walks and behind-the-scenes tours. After select performances, Wolf Trap also offers artist workshops and Junior Ranger Days, at which children can earn special badges. For a complete list of programming, visit wolftrap.org/woods. Find out more about other unique National Parks like Wolf Trap at nps.gov.
Recommended Posts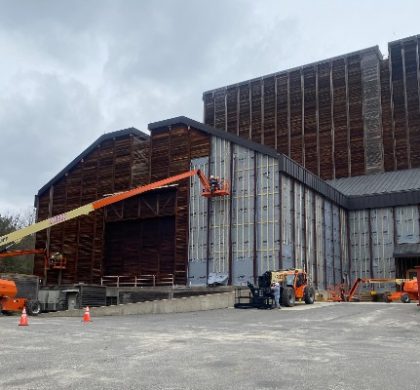 Apr 01, 2021 - NPS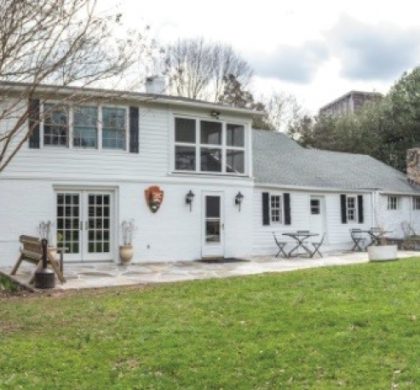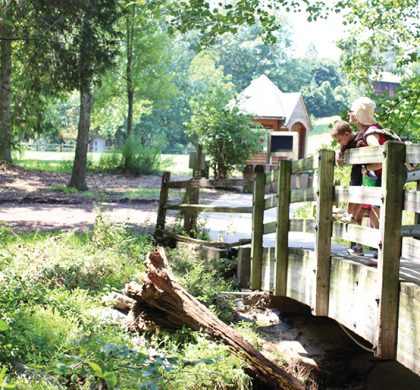 May 07, 2020 - NPS