---
History Hidden in Plain Sight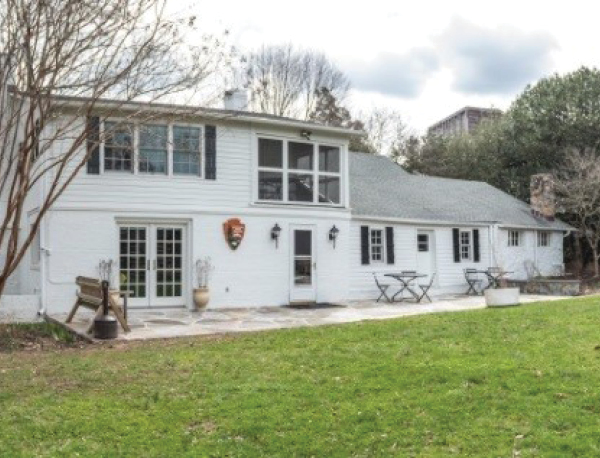 May 13, 2020
Before Wolf Trap was the only National Park for the Performing Arts, before legendary artists took the stage at the Filene Center, before The Barns opened its doors, the land we enjoy today was once a farm of over 150 acres owned by Catherine Filene Shouse. "Kay," as she was known to family and friends, hosted decades of lively gatherings at her country home.
With her passion for the arts and gift to the nation more than 50 years ago, Mrs. Shouse ensured that her beloved Wolf Trap Farm would remain synonymous with hospitality, performing arts, and nature. Wolf Trap Members have safeguarded its vibrancy ever since and provide a connecting link from the past to the future at Wolf Trap.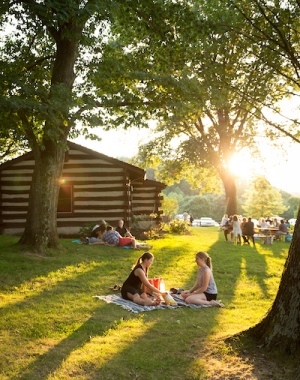 Patrons enjoy a picnic surrounded by the beautiful landscape and one of the log cabins that can be found at Wolf Trap.
Of course, the land had a long history before Mrs. Shouse purchased her first parcel in 1930. Reports from the 17th century cite the trapping of wolves that preyed on the region's livestock. This inspired the creek's name, Wolf Trap Run.
Three centuries later when this property served as Mrs. Shouse's home, her family and friends, renowned artists, and political leaders would relax in the natural beauty of the landscape, away from the stress of city life.
Today, you can see signs of Wolf Trap Farm's history located near Mrs. Shouse's original farm house. This white house, sections of which date back to the 1700s, is located to the left of the Filene Center main entrance and serves as the administrative offices for Wolf Trap National Park for the Performing Arts. Nearby are several log cabins of varying origins, a few of which date back significantly. The smallest of the cabins is referenced as the "smoke house."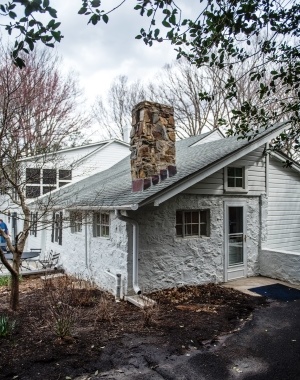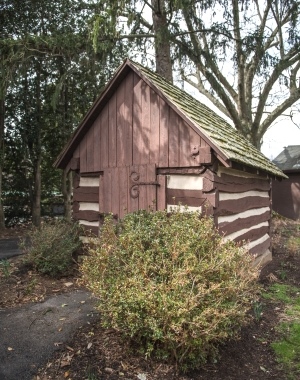 Another of the cabins was relocated to the property by Mrs. Shouse in 1948 from Fredericksburg, VA. It is reported that a sword and scabbard and a Union soldier's belt buckle were found under the house during the move and donated to the National Park Service. Once a house for family and guests, this cabin now serves as seasonal offices for the NPS and U.S. Park Police.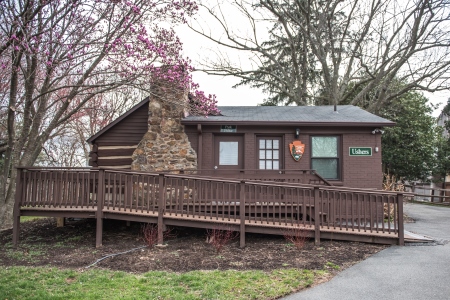 A log cabin brought to the property in 1948, now used as seasonal offices for NPS and the U.S. Park Police.
In addition to her gardens, Mrs. Shouse had a stone kennel for her prized pet boxers. She also raised many of the farm animals one would expect: chickens, ducks, turkeys, cows, pigs, and horses. A stable and hay barn accommodated the horses, and riding them was reported to be a favorite activity of family and friends. Reminiscent of her fondness for horses, a cast iron hitching post decorated with a horse-head finial can be found in a small flower garden near the farm house.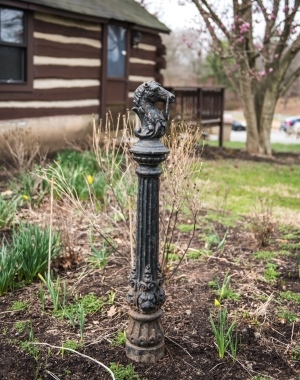 As you walk near the cabins, keep your eye out for this cast iron hitching post in one of the small gardens.
Completing the farm and directly behind the house is a large farm bell. You will hear it these days signaling patrons that it is time for the show to begin!
On your next visit to Wolf Trap, look for these treasures, which harken back to an earlier time – and mark a great spot for a picnic or a Wolf Trap selfie!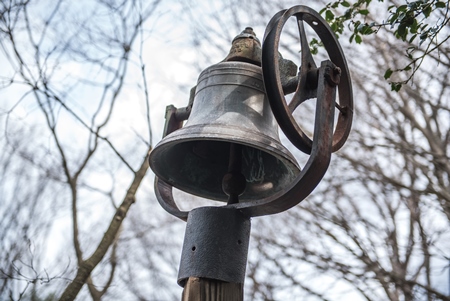 You might hear the ringing of this farm bell before the start of a show.
Since the earliest days of Wolf Trap Farm, the world has changed in many remarkable ways. Technology has revolutionized our day-to-day lives, and the newest gadgets are introduced at rapid speed. As innovation races forward, experiencing the beauty of bucolic open spaces on a summer day, soaking up the magic of a live performance, and creating lifetime memories with family and friends become even more rare and precious.
Regardless of the changing times, Mrs. Shouse believed that the arts and nature remained at the center of the human experience — inspiring, educating, entertaining, and building community. As land development moved further west from Washington, DC, she committed herself to preserving this experience for future generations, determined to turn her vision into reality by creating a gift that would grow and inspire beyond her lifetime.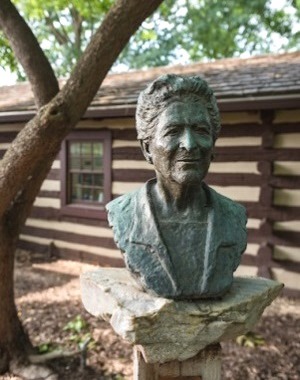 In honor of her enduring gift, a bronze bust of Catherine Filene Shouse was presented by her friends in 1974, sculpted by Elaine Pear Cohen.
Today, we have Catherine Filene Shouse to thank for this tremendous place and experience. Annual support from Wolf Trap Members today and consideration of a legacy gift for tomorrow, will ensure that Wolf Trap thrives for the next generations of family and friends picnicking on the lawn and breathing in the evening air under the stars at Wolf Trap.
Wherever I am when I depart this world I'll be watching Wolf Trap and all who accept the responsibility of carrying out my deep desire that it brings peacefulness, pleasure, and outstanding programs for people, young and old.

Catherine Filene Shouse (1896-1994)
Learn more about:
To discover how you can make a lasting impact on future generations at Wolf Trap, please contact us at 703.255.1930 or legacycircle@wolftrap.org, or visit www.wolftrap.org/endowment.
Recommended Posts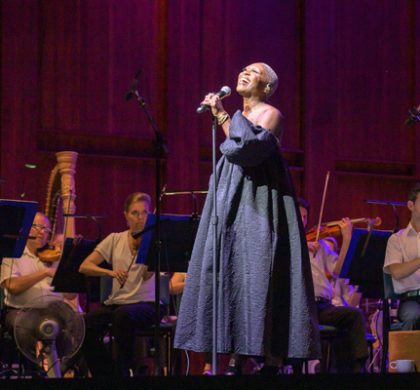 Jul 07, 2021 - Summer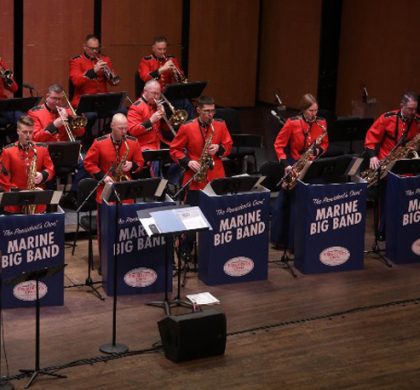 Jul 02, 2021 - Summer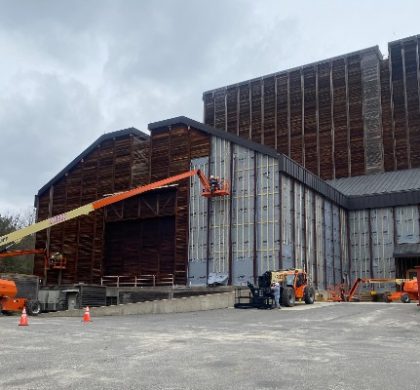 Apr 01, 2021 - NPS