---
A Better Backstage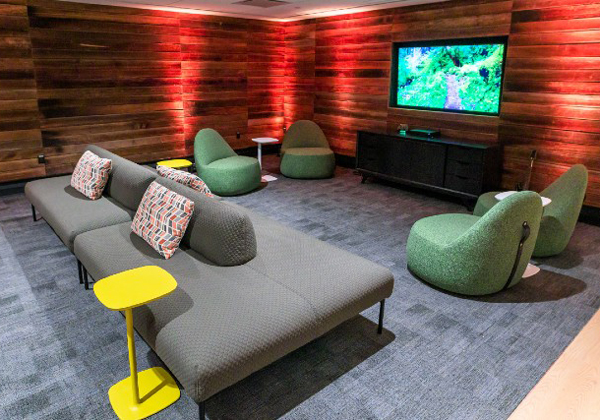 Jun 30, 2022
On July 1, 1971, the stunning 7,028-seat Filene Center opened to great fanfare. Built of Douglas Fir and Southern Yellow Pine, the venue was designed to be in harmony with nature, and to serve the performers of the time. After the original was lost to fire on April 4, 1982, it was rebuilt in the same location.
The building was enormous and packed with amenities, but throughout the decades, artist and crew needs and expectations evolved, and the backstage began to show its age.
After years of planning and thanks to generous donations designated for long-range improvements, during 2020 and into Spring 2021, Wolf Trap Foundation modernized the Filene Center backstage areas and sound system. Partnering with Gensler Architects and LF Jennings Construction, rooms have been reconfigured and updated to better anticipate usage and give visiting artists a sense of Wolf Trap's unique history and mission.
Artists are at the heart of Wolf Trap, and many returning performers have noted with great appreciation and amazement the transformations that have been made, some even mentioning the renovations during their shows. Newcomers making their Wolf Trap debuts have also remarked on how well-cared-for and at ease they feel while at Wolf Trap, which translates into a memorable and enjoyable performance for all. Several marquee artists have raved that Wolf Trap is one of their favorite venues, and that the sound system is second-to-none.

A WELCOMING SPACE
The downstairs Reception Room was formerly a cinder-block, dark space, and has been upgraded into one reflective of the beauty and significance of the only National Park for the Performing Arts. It now serves as a dedicated, finished space for artists to comfortably conduct interviews with the media and hold meetings with business managers, family, and other contacts while on site.
Reclaimed Douglas Fir from the iconic exterior of the Filene Center has been introduced into the space, bringing a sense of the outside indoors. This wood, sourced from the siding replacement project recently undertaken by our National Park Service partners, appears throughout the lower level. The drop ceiling was removed to make the space feel more open and theatrical. And, when artists walk through the halls, they can now admire aluminum photographic prints showcasing the rich legacy of extraordinary artists who have performed at Wolf Trap over the decades.

FLEXIBLE AND FUNCTIONAL
The diversity of a Wolf Trap summer season means that artists, groups, and entourages of various sizes will inhabit the backstage on any given day. Adaptability is key. Originally, ten individual dressing rooms, each with en-suite baths, and three larger chorus dressing rooms lined the main corridor. The spaces were inefficiently arranged, had outdated, oversized furniture, and were not always aligned with our current needs.
Designers reconfigured the space to keep several of the small rooms, but also to create a larger, mid-sized dressing room with elevated decorative finishes for featured players or conductors. Importantly, they also outfitted two of the private dressing rooms to be accessible.
The new chorus room design offers a relaxing environment with space to both socialize and prepare, including a food and beverage server, comfortable furniture, upgraded fixtures, and mirrored vanities with individually adjustable LED-lighting. Retractable walls divide the space for more flexible use.

A STAR-WORTHY SUITE
Headlining performers appreciate having a comfortable retreat where they may unwind and prepare themselves for the evening's show. The new main artist suite's decorative finishes and furnishings have been upgraded to higher quality and have a more contemporary flair, and an inset flat-screen monitor allows artists to view onstage activity or catch up on a favorite show. A private patio adjacent to the room is a perfect place to get some fresh air.
Seeing the suite for the first time, one notable soprano joked that she would happily move in for the week!

LOUNGING AROUND
Artists and their entourages are on site for much of the day of the performance. The Lounge is the main place for them to relax and feel at home. Several years ago, what had been a storage area was converted into a game room with a pool table, ping pong table, TV, and video games. These amenities remain, with the addition of comfy, modern furniture and plug-ins for laptops. A graphic representation of the Park area displays the whole Wolf Trap campus.

NAMASTE BACKSTAGE
Just off the Lounge, is a new space for artists and their teams to stretch, meditate, and exercise in a mirrored wellness room that can be configured for classes, calisthenics, yoga, or massage.

A BITE TO EAT
Visiting artist crews and backstage teams are fed on site morning, noon, and night. An enlarged café was created by reconfiguring the adjacent rooms. The drop ceiling was removed and painted white for a fresh and open look. Colored flooring tile suggests the quintessential Wolf Trap experience of picnicking on the Lawn with a patchwork pattern of "blankets." A graphic mural created from a highly digitized photo of patrons eating on the Lawn further alludes to that time-honored tradition. New modular furnishings are durable, flexible, and easy to clean, and a built-in banquette runs along one wall.
The previously outdated and poorly appointed kitchen is now outfitted with professional-grade equipment and connects to the eating area through a servery, where staff can replenish catering with ease. Tile "leaves" on the wall above the alcove evoke the Park at dusk, just as concert music fills the air.

NOT JUST A PRETTY SPACE
In addition to the extensive cosmetic improvements, all technical building infrastructure was updated and upgraded. Energy-efficient LED lighting is on motion sensors throughout, and the HVAC system, which formerly was controlled by a single thermostat, is now multi-zoned. These upgrades will better support the needs of our visiting artists and will help them feel welcome and comfortable while performing their best at Wolf Trap.
---
We are grateful to the trailblazing Wolf Trap Foundation donors for their extraordinary commitments to support facility enhancements and programs for future generations as part of the Campaign for Wolf Trap: Our Next Chapter.
Wolf Trap belongs to everyone, and our work continues to enrich the Wolf Trap experience for all. Please visit wolftrap.org/campaign for more information. To join this future-building effort, contact campaign@wolftrap.org.
Thank you.
Recommended Posts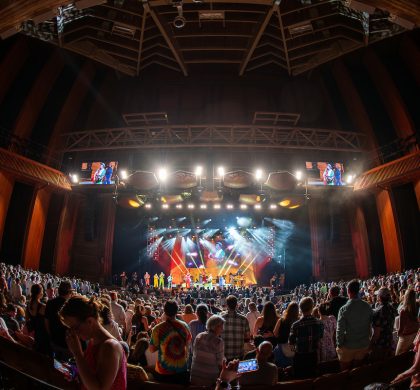 Nov 28, 2023 - Experience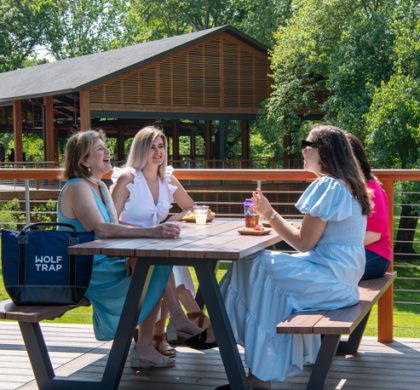 Jul 24, 2023 - Experience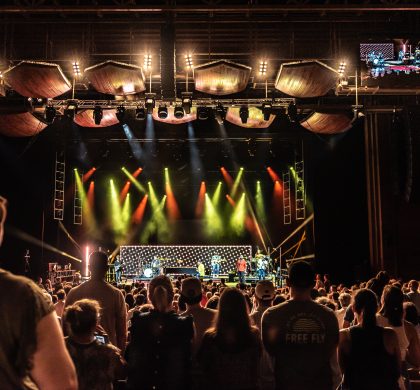 Dec 19, 2022 - Experience