---
Four Arts Strategies for Connecting With Babies and Toddlers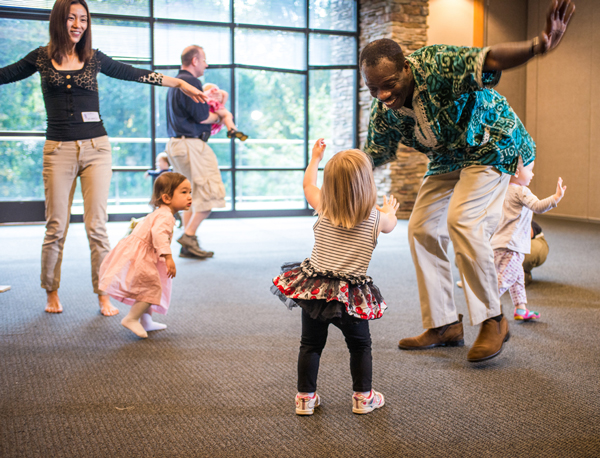 Apr 22, 2022
As a young parent, there is often no moment more gratifying than seeing your baby light up. Whether through a smile, a giggle, or a wiggle, your child is demonstrating through a non-verbal movement or expression that he or she has made a connection.
Research shows that in the first years of life, the brain forms one million new neural connections every second. Those connections provide the foundation for all future learning, behavior, and health. (Harvard University Center on the Developing Child, 2017).1 That's why incorporating arts into the lives of babies and toddlers─our youngest learners─can be an effective way to stimulate their development and strengthen the bond between parent and child.
Here are some helpful strategies that Wolf Trap Teaching Artists have developed to help early childhood providers, parents, and caregivers spark engagement in babies and toddlers, both in the classroom and at home:
Little Voices for Healthy Choices: Baby Beat, Baby Feet
The naturally stimulating combination of music and movement experiences impacts healthy physical, emotional, social, cognitive, and language development skills in infants and toddlers. From jumping like little frogs, to dancing like raindrops, this collection of songs, performed by Wolf Trap Teaching Artists Valerie Bayne Carroll, Kofi Dennis, Yvette Holt, Sue Trainor, Maria Tripodi, and Sylvia Zwi, present dynamic, creative, developmentally appropriate movement and music experiences that can be infused into young children's daily routines, providing many long-term benefits to infant/toddler growth and development. 
The Bubble Dance for Spatial and Body Awareness
What do bubbles look like when they move? Do they stay in one place or do they move throughout the room? In this strategy, Wolf Trap Master Teaching Artist Maria Tripodi demonstrates how bubbles can help children make observations and predictions and practice spatial awareness, navigation, and self-space.
Also available in Spanish.
Front, Back, Up, and Down Song
"We're going front, back, up, and down, and we do it, and we do it, and we do it again!" Wolf Trap Master Teaching Artist Maria Tripodi demonstrates how infants and toddlers can experience movement, direction, and navigation through space while a caregiver describes basic concepts of dance using song.
Also available in Spanish.
Throughout human history, the lullaby is a technique many cultures have adapted to soothe their children from distress. It has also served as an effective bonding strategy that strengthens the connection between parent, caregiver, and child. In this experience, Wolf Trap Teaching Artist Yvette Holt shares a lullaby designed to foster quiet time with an infant or young child.
Also available in Spanish.
To learn more artful strategies for connecting with babies, toddlers, and children through first grade, visit education.wolftrap.org/.
1Brain Architecture, Harvard University Center on the Developing Child, 2017, developingchild.harvard.edu/science/key-concepts/brain-architecture/.
Recommended Posts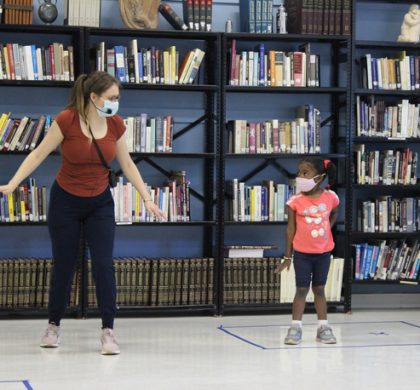 Nov 28, 2023 - Education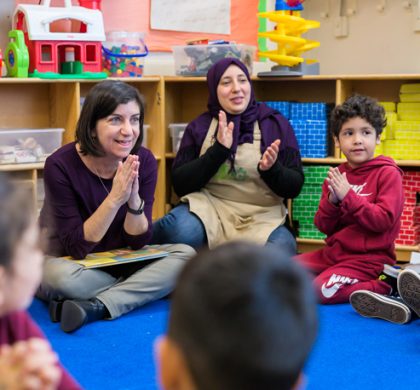 Nov 08, 2023 - Education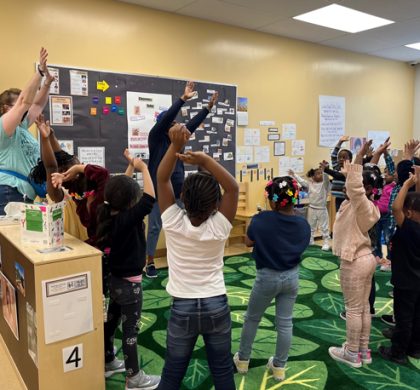 Nov 08, 2023 - Education