---
At Home with Artists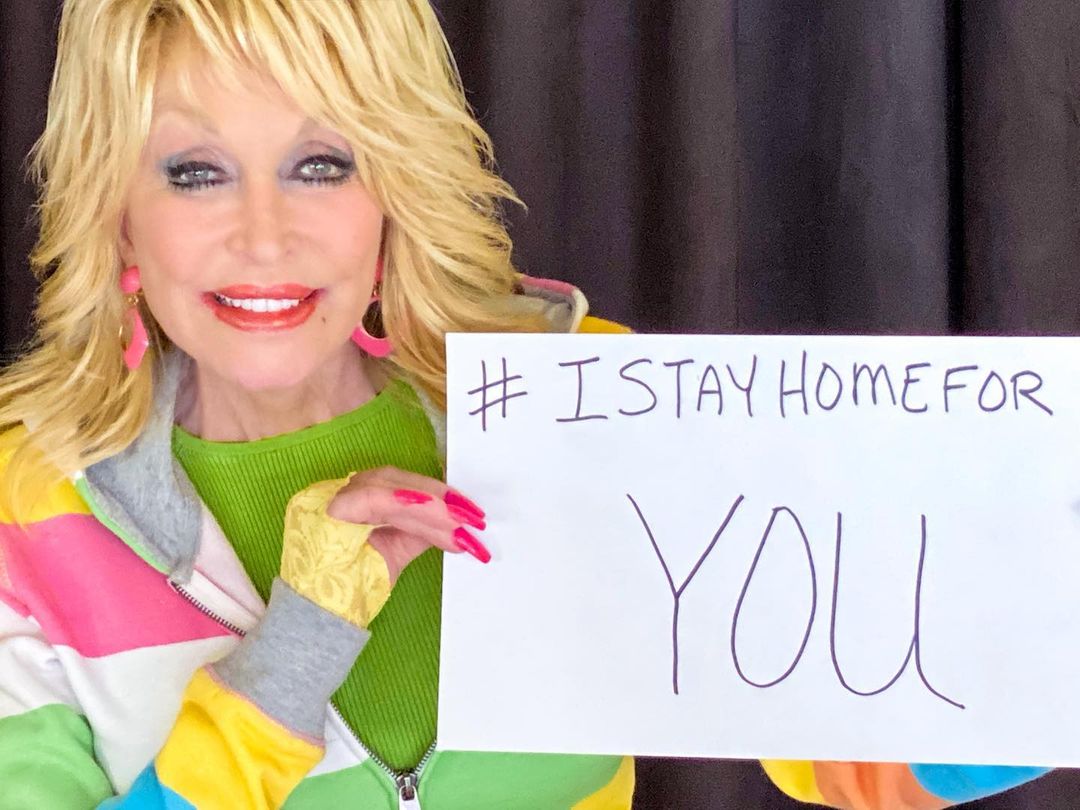 Feb 12, 2021
After almost a year at home, we've all had to find new ways to connect with family, friends, and colleagues. While performers have faced similar obstacles, they've also remained impassioned about staying active with their fans, in the news and media, and in crafting their artistry. This has led to some very interesting, innovative, and unique glimpses into their private lives. Let's take a peek at what some Wolf Trap artists are doing to keep themselves busy during quarantine.
Dolly Parton
Despite accepting the #IStayHomeFor challenge in 2020, quarantine hasn't slowed down Dolly Parton's "9 to 5" grind. The legendary country icon continues to use her fame to help others during the pandemic. In addition to funding Covid vaccine research, Parton held a virtual story time series to read bedtime stories to children during quarantine, launched an apparel collection to benefit LGBTQ+ youth and childhood literacy, regularly brought her bubbly personality to television segments, recorded new songs including a cover of the Bee Gees classic "Words" with Barry Gibb and "Pretty Paper" with Willie Nelson, released a new holiday album, and is launching a new fragrance this summer.
Celebrating her 75th birthday in quarantine earlier this year, Parton, who last performed at Wolf Trap in 2016, took to social media to ask her fans for a simple gift. "This year my birthday wish is a call for kindness," Parton wrote. "We can't just hope for a brighter day, we have to work for a brighter day. Love too often gets buried in a world of hurt and fear. So…let's get to unearthing love."
John Legend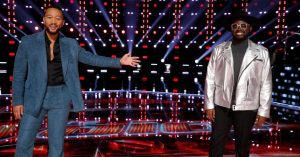 Emmy, Grammy, Oscar, and Tony Award-winner John Legend has remained dedicated to providing respite during the pandemic. In March 2020, Legend began providing virtual performances for fans and causes via Instagram Stories and other streaming platforms. Quarantining with his famous wife, Chrissy Teigen, Legend stays busy with his two children, preparing new culinary dishes, and releasing new music and music videos.
Following careful health and safety protocols, Legend continued to stay active as a judge on NBC's The Voice, where he most recently coached Wolf Trap Opera alum John Holiday; performed Nina Simone's "Feeling Good" during the presidential inauguration; and continues his fundraising initiatives to help fight the Covid-19 pandemic.
Lindsey Stirling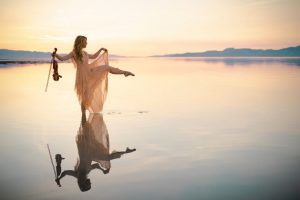 Violinist Lindsey Stirling, who made her Wolf Trap debut in 2015, has remained busy pursuing new creative endeavors. The America's Got Talent alum launched "String Sessions," an eight-part podcast series whose musical guests have ranged from Johnny Rzeznik of the Goo Goo Dolls to Jewel. Each episode opens with an acoustic performance of a song by that week's guest accompanied by Stirling on a string arrangement, and followed by an in-depth interview.
After the release of "String Sessions," Stirling began composing new music and in 2021 released "Lose You Now" featuring Mako. Of her new creative outlook, Stirling said "I want to write some music that helps people feel calm and connected. I've felt a lot of anxiety through all of this, the ups and downs…I think a lot of people are feeling that same heaviness and anxiousness of just the world. So I thought, I want to write music that helps people curb their anxiety and feel connected and strong."
Josh Groban
Grammy Award-winning musician Josh Groban, who most recently came to Wolf Trap in 2019, hasn't slowed down in the past year. Grobanites have been filled with joy over the artist's musical endeavors—which we imagine won't stop anytime soon! In addition to releasing his new album Harmony in November 2020, the multi-platinum artist has taken fans on a virtual concert tour with a series of new, intimate performances. Each show, filmed in-person and live-streamed directly to audiences all over the world with high-quality sound and lighting, provide fans with a unique look at Groban's repertoire of music.
In the United States, Josh Groban: An Evening of Harmony can be watched on PBS. Check local listings for air dates.
JoJo Siwa
Dancer, singer, actress, and YouTube sensation JoJo Siwa, who made her Wolf Trap debut in 2019, has been candid about her experiences during the pandemic. At the beginning, she anticipated the short break being a time to relax away from the spotlight. After a few weeks, she decided to build a stage in her backyard where she could film weekly performances for her fans. She released her new song "NONSTOP" in mid-2020 and a fun holiday jam "Run Run Rudolph" in December. She is currently filming a musical about her life called The J Team.
In early 2021, Siwa identified herself as a member of the LGBTQ+ community through a series of Instagram posts including one in which she lip synced to Lady Gaga's "Born This Way." According to the pop star, she's "never, ever, ever been this happy before."
Dionne Warwick
Six-time Grammy Award-winning singer, and seven-time Wolf Trap performer, Dionne Warwick spent 2020 becoming a Twitter sensation. Warwick's brazen and elegant personality has allowed her to shine and become relevant to a new audience. Her candid take on timely events, pop culture phenomena, trending topics, and hilarious responses to artists and critics alike brought a much needed distraction during a difficult year.
In arguably her most famous tweet to Chance the Rapper on December 5, 2020, Warwick wrote "Hi, @chancetherapper, if you are very obviously a rapper why did you put it in your stage name? I cannot stop thinking about this." In her next tweet, she announced "I am now Dionne the Singer."
Wu Han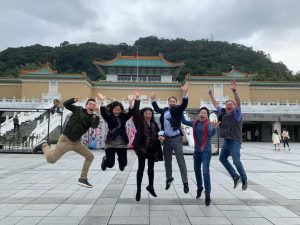 Chamber Music at The Barns Artistic Advisor, Wu Han, has remained busy during the pandemic. Quarantining in Taiwan, currently one of the "safest" places in the world, with her husband David Finckel, she has already begun performing in-person concerts. In addition to curating the fall and spring Front Row: National performance series for Wolf Trap, the pair took Chamber Music Society of Lincoln Center (CMS) colleagues on a classical music tour of Taiwan. After extensive testing and tracing, a strict two-week quarantine, with regular reports on everyone's temperature and location, and with assistance from the government, the Taiwan National Symphony, and other partners, the CMS ensemble had well-attended, enthusiastically-received concerts.
"Live musical events can change lives," writes Wu Han. "When we attend a concert with no daily distraction of texts, emails, TV, news, and computers, we enter into a special place that can transform us. In chamber music especially, the intense conversations between musicians with their instruments, the interaction and trust displayed on stage, the love and friendships that form right in front of you, is intoxicating."
Sutton Foster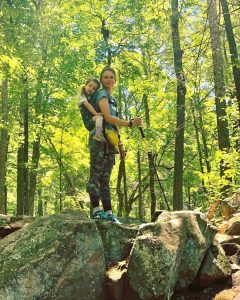 Making her Wolf Trap debut at The Barns in fall 2019, Broadway and TV star Sutton Foster has given fans a unique glimpse into her life at home. Normally a private person, she began regularly posting about her weekly dance cardio workouts, performing driveway concerts with friends, a cooking IGTV series called "The Swap," and frequently hiking. In February 2021, Foster began filming the final season of her hit television program Younger in New York City.
Lenny Kravitz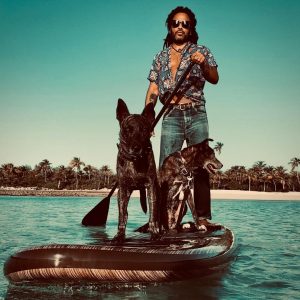 When the pandemic began in early 2020, Lenny Kravitz decided to shelter in place in the Bahamas. His plans of touring the world and promoting his new memoir Let Love Rule quickly disappeared and instead Kravitz began living the simple life, growing his own food, enjoying time in a tropical oasis, and using trees as makeshift workout benches.
Discussing his Bahamian lifestyle with Rolling Stone, Kravitz said, "To be honest, when we are not in this situation and I'm down here creating, I realized that I've been quarantining my whole life. When I come down here, that's kind of what it is. You're around just a few people. The only difference is that you can go into the village [and] into the settlement and hang out with folks and go sit at a bar or restaurant and talk with the people. I miss that. But otherwise, this is kind of how I live all the time when I'm here."
There's no surprise that performers are ready to get back to their art, which makes 2021 an exciting year for music lovers! We are patiently awaiting for new albums and projects from Wolf Trap artists Sting, Tony Bennett, Lady Gaga, Brandi Carlile, Liz Phair, Hiss Golden Messenger, Kacey Musgraves, Juanes, Ani DiFranco, and more.
Recommended Posts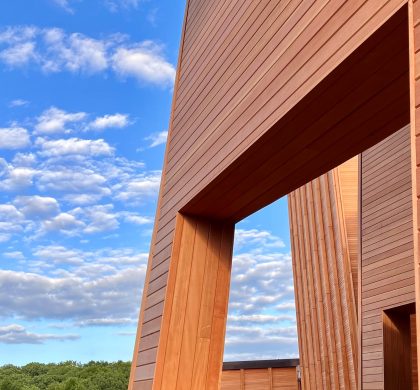 May 28, 2022 - Experience, Foundation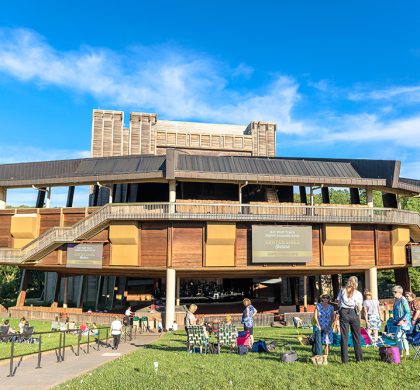 Dec 20, 2021 - Experience, Foundation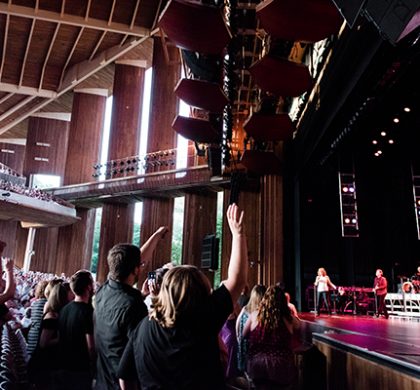 Mar 23, 2021 - Foundation, Summer