---
Sharing Love & Knowledge Through Music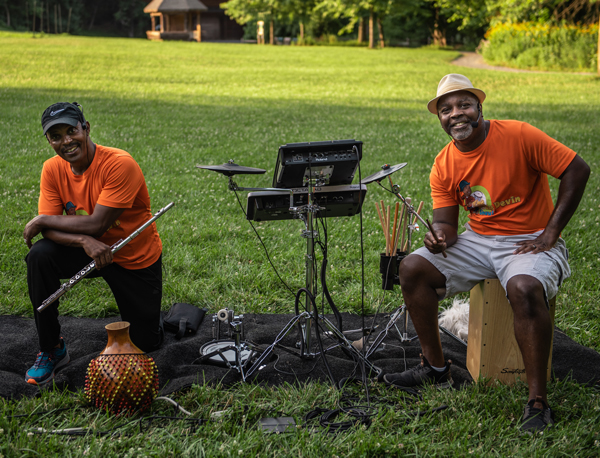 Jan 26, 2021
Q&A with Wolf Trap Teaching Artist "Uncle Devin" Walker
What exactly is a "Drumcussionist?" Wolf Trap Teaching Artist "Uncle Devin" Walker coined the term to describe his joyful flair for combining drums and different percussion instruments—even one's own body—to take children and their families on a journey through rhythm and music genres.
Uncle Devin works with Wolf Trap Institute for Early Learning Through the Arts and its Maryland affiliate to deliver professional development, family workshops, and arts-integrated learning to early childhood classrooms in the greater Washington, D.C. and Baltimore metropolitan areas. He created and produces WEE Nation Radio, an online music radio station featuring kid-friendly R&B, hip-hop, funk, jazz, go-go, and world music, and hosts his own podcast on WEE Nation. He also is the author of The ABC's of Percussion.
Here, Uncle Devin talks about the inspiration for his work, and music's role in creating social change.
Wolf Trap: Can you talk about your background and how you first became interested in the arts?
Devin Walker: My parents tell me that I naturally gravitated toward music when I was around four years old. They bought my older brother a small, toy drum set as a Christmas gift, but I quickly took it over and would not give it back. I have been playing drums and percussion ever since. My father began sharing jazz and Latin jazz music with me. Growing up in the Black experience, I grew to love gospel, funk, and R&B, which became a regular part of my musical experience.
WT: What motivated you to work with children and become a Teaching Artist?
DW: I recall an assembly at my elementary school in the first grade that blew me away. It was a group of artists who put together short skits with live musicians. I was in awe. I knew that I wanted to have that same impact on children when I got older. Additionally, I wanted to help diversify this field so children, especially Black children, can see a man of African descent sharing love and knowledge through music.
WT: What do you hope your audience takes away from your performances?
DW: My goal is to take the audience on a magical journey through Uncle Devin's Percussion Playground that allows them to hear and see different percussion instruments, including body percussion, and how they are used in different music genres. I want them to understand that rhythm is life [and it] starts with a heartbeat [that] can never be separated from the human experience. I want them to gain a better knowledge of themselves through the music I share.
WT: How can the arts help children process all the change and uncertainty happening in our world right now?
DW: In every social movement for change, music and art always [play] a pivotal role. Some of the greatest social movements occur when there is a merging of our cultural and political expressions. Music and art help us deal with emotions, tell stories and soothe the soul. It allows us to heal from the wounds that life gives us and has the power to transform individual hate into universal love.
WT: Who are your personal musical inspirations?
DW: There are too many artists for me to list as my biggest inspirations, but I must start off with the Jackson 5, who I was a huge fan of when I was around five years old. The music of Parliament Funkadelic; Earth, Wind and Fire; Natalie Cole; Dizzy Gillespie; Trouble Funk; and Sarah Vaughn were also important to me. Growing up in the Washington, D.C. area, I can say for certain that the greatest music genre that had an influence on me is the official music of the nation's capital, go-go music; but gospel, jazz, R&B, funk, and hip-hop are just as important to my development.
To learn more about Uncle Devin, you can visit his website at theuncledevinshow.com. For more about Wolf Trap Institute and its work in the early education community, visit the Wolf Trap Institute website.
Photo of Uncle Devin by Cipriana Thompson Eckford.
Recommended Posts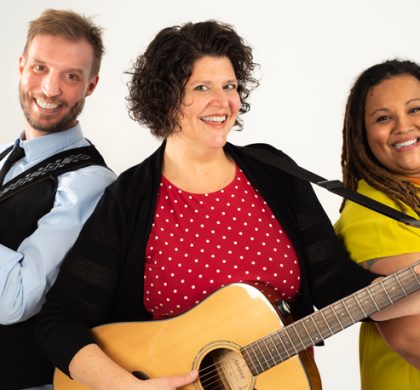 Jun 01, 2023 - Education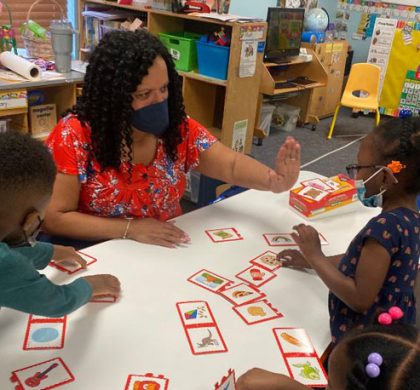 May 04, 2023 - Education