---
A Year of Reflection and Innovation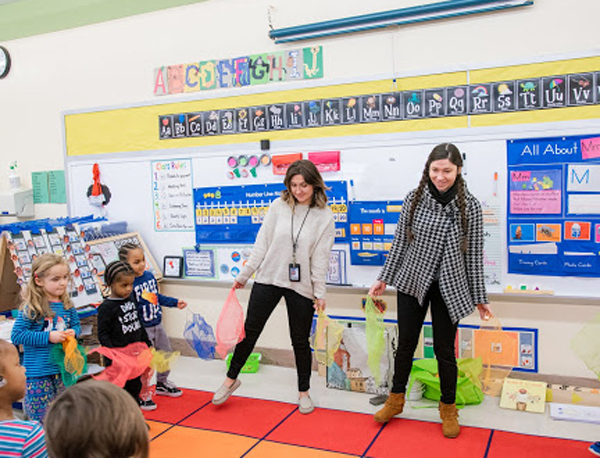 Nov 03, 2020
A Round-Up of the 2020 Wolf Trap Affiliates Conference
This October, Wolf Trap Institute for Early Learning Through the Arts invited its 22 affiliates and teaching artists from across the United States and Singapore, as well as Wolf Trap Foundation staff and board members, to its annual Affiliates Conference. Because this year's conference was virtual, Wolf Trap was able to invite more teaching artists and community members to participate than in previous years. All convened for two days of lively discussion, lessons in best practices and case studies in effective arts-integration strategies.
Day One
Day One began with an "energizer" from Detroit Wolf Trap Master Teaching Artist Kimberli Boyd, who helped participants prepare for the day with a movement and breathing exercise. Keynote speaker and author Cindy Huggett followed, providing conference attendees with a primer on best practices for virtual learning.
"Prepare like an Olympian," encouraged Huggett, as she advised attendees to keep their audience in the forefront as they develop their online experiences. "Set up expectations for your audience" beforehand, by providing background materials that will deliver a context for what they are about to learn. "Create a social experience" for your viewers that keeps them engaged, using Wolf Trap's opening "energizer" as an example. Think about how you are presenting yourself on camera: position your microphone to facilitate better audio, and use breathing techniques prior to presenting. Most importantly, perform run-throughs and have back-up devices in the event of any technology fails. You can learn more tips from Huggett in her 5 Ways to Engage an Online Audience.
Following the keynote, Huggett was joined by New Jersey Wolf Trap Master Teaching Artist Wincey Terry-Bryant, Jeanine Fahnestock, Senior Vice President and Deputy Executive Director for PNC Bank's Grow Up Great initiative, and Betsi Closter, School Readiness Coordinator for Virginia's Fairfax County Office for Children for the panel "Early Arts Learning in Virtual Settings."
The panelists discussed the challenges currently facing classrooms and school districts, who have been tasked with delivering instruction in a remote environment. "Regardless of race or socio-economic background, all students have been affected," commented Fahnestock.
Terry-Bryant demonstrated how to use props to encourage participation in an abbreviated version of her family involvement workshop "Sing, Dance, and Play across the U.S.A.," and gave advice on how to engage parents and caregivers along with their children: "Always give parents something to do. I encourage them to keep a steady beat to help guide their child through the experience."
Day One concluded with "Dancing as We Grow," led by Western Pennsylvania Wolf Trap Teaching Artist Joanna Abel. Abel led participants through a dance-integrated lesson illustrating the different phases of the water cycle, and demonstrated how the exercise could be adapted to multiple grade levels.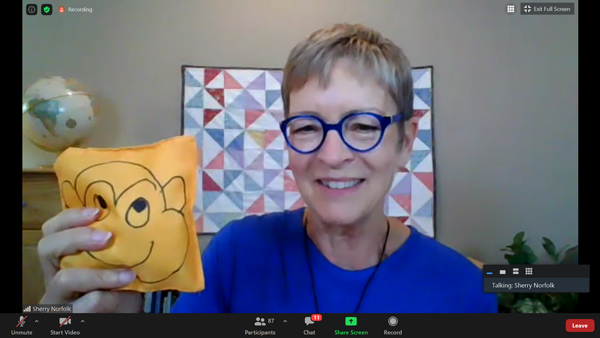 Day Two
The second day of the conference began with the session, "A Community Connecting Around and Grappling with Our New Realities with an Equity Lens," presented by Maryland Wolf Trap. Highlighted by a tap demonstration by Teaching Artist Quynn Johnson, conference goers were encouraged to brainstorm ideas about how they can better incorporate culturally inclusive strategies and tools into their residencies and workshops such as offering options in Spanish and in American Sign Language. Other ideas ranged from including questions about student demographics in teacher planning sessions to seeking out songs and books that reflect and are respectful of different cultures and finding local community organizations and resources that can help provide guidance.
"It's important for children to see themselves reflected in the book you are sharing with them," emphasized session leader J Little.
The second session featured Teaching Artist Sherry Norfolk, whose five-day residency she conducted on behalf of Greater St. Louis Wolf Trap served as the basis for her workshop "Adapting, Modifying & Transforming Learning Strategies for Children with Very Special Needs."
Classrooms with children of differing needs – whether they are integrated or self-contained – require special considerations, Norfolk reminded. Children can be non-verbal or have sensitivities regarding touch, light or sound that need to be taken into account.
"When working with children with special needs, it's important to adapt, modify and transform experiences, as students' needs can change from day to day," said Norfolk.
Assessment can also be a challenge, as Norfolk's teaching partner expressed during their residency. Given her students' differing abilities, it could be difficult to gauge how well students were able to understand a given topic, so Norfolk developed a strategy with her partner in which students were encouraged to keep a steady beat using bean bags. The measure then became: could the students follow the rhythm and could they anticipate the appropriate time for their bags to drop?
Norfolk also demonstrated how, through the use of rain sticks and "Find It!" tubes, teaching artists can provide a multi-sensory experience for children. They can also serve as a calming tool for students who require them.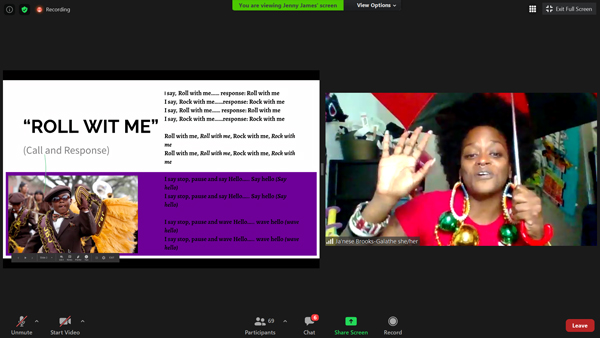 Laissez les bon temps rouler (Let the good times roll)! For the next session, conference goers took a virtual trip to New Orleans, where Teaching Artist Ja'nese "Mama J" Galathe and Affiliate Director Jenny James from Louisiana Wolf Trap presented their workshop "Take Me Down to the Second Line: Creating Community-Specific Experiences."
Mama J welcomed everyone with a rousing call and response rendition of "Roll wit Me," and shared some background on New Orleans' Treme neighborhood and its rich traditions, like the "Second Line," that has served as a community touchstone for generations. James described how their affiliate works within the greater New Orleans community, and with partners like the New Orleans African American Museum, to create authentic experiences that honor the unique traditions of the city and reflect the culture of its residents.
"Find the culture bearers of your community and involve them in the arts experience," Mama J and James recommended. Learn from them, respect them and bring that knowledge into your classrooms and workshops.
The conference ended with a session of reflection, where participants shared their session takeaways with each other, and an "Open Mic" night, during which teaching artists showcased some of their works in progress.
"We've had a lot of great feedback from our teaching artists and affiliate directors already, who appreciated the opportunity to interact with their colleagues and exchange new ideas," said Akua Kouyate-Tate, Vice President, Education for Wolf Trap.
"Our attendees were eager to learn how their fellow affiliates and teaching artists are collaborating and strengthening relationships with families, education partners and communities to implement high quality arts-integrated learning experiences that are meaningful, effective, and impactful for young children's development in whatever the learning environment," Kouyate-Tate continued. "Our goal each year is to provide our teaching artists and affiliates with fresh perspectives on their work, including resources and strategies they can adapt as they continue to address the specific needs of the children, families, and educators partners in their communities."
Recommended Posts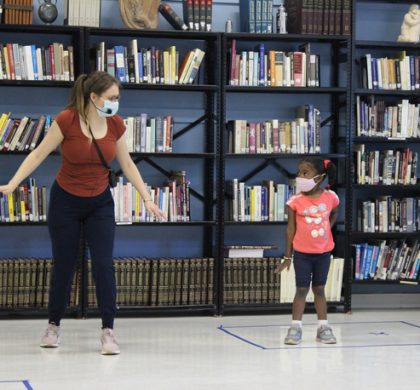 Nov 28, 2023 - Education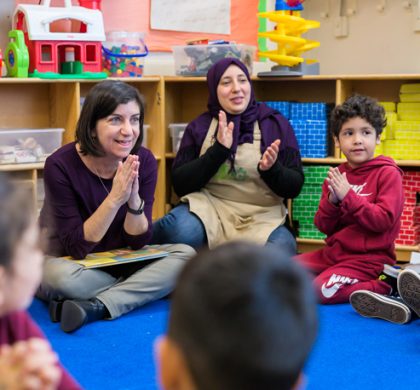 Nov 08, 2023 - Education