---
Wolf Trap Honey Balsamic Glaze Seared Salmon With Fresh Seasonal Strawberry Salsa And Garden Spinach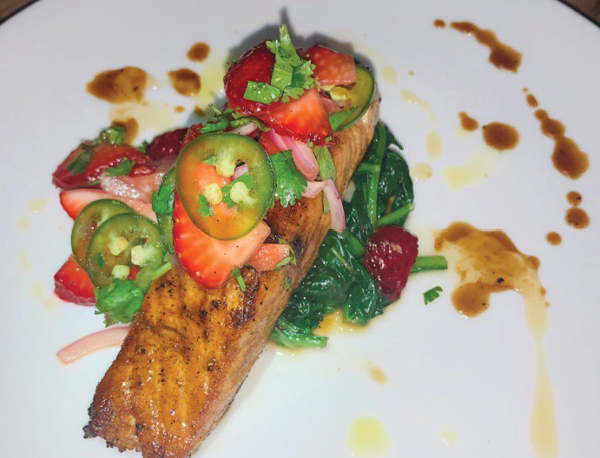 May 22, 2020
Wolf Trap's Executive Chef, Chris Faessen, shares a flavor-filled summer twist on salmon with a honey balsamic glaze, strawberry salsa, and fresh spinach. This bright and colorful dish is excellent for a warm summer night and pairs perfectly with a cool glass of the Strawberry Basil Bourbon Smash.
Wolf Trap Honey Balsamic Glaze Seared Salmon
6 oz. Salmon filet
1 Tablespoon olive oil
1 Tablespoon unsalted butter
1 Teaspoon salt
1 Teaspoon fresh ground black pepper
2 Cloves of garlic, minced
¼ Cup Balsamic vinegar
3 Tablespoons Wolf Trap Honey or raw honey
3 Cups of fresh spinach
Let salmon sit at room temperature for 10-15 minutes and pat dry with a paper towel.
Season salmon with salt and fresh cracked pepper.
In a 10-inch skillet (non-stick or very hot cast iron), heat olive oil until you see smoke. This will indicate when the pan is hot enough and ready for the salmon.
Gently add salmon to skillet with tongs. As you place the salmon on the skillet, hold it firm with tongs and gently make a circular motion with the salmon in the pan to prevent it from sticking. Once the salmon starts to get a good sear, it won't stick anymore.
Cook 8-10 minutes on medium-high heat, turning once until fish starts to flake easily.
Reduce heat to low, add balsamic vinegar and honey to the skillet. Stir to combine and cook for about 1 minute or until the sauce thickens slightly. The salmon will start to have a dark glaze/brown look from the balsamic and heated honey.
After 1 minute, mix in ½ tablespoon of butter to finish the sauce.
Stir to combine and cook for 1 minute or until sauce thickens.
Remove salmon from pan.
Turn off the stove and add remainder of chopped garlic and ½ tablespoon of butter to the pan. Be careful not to burn the garlic
After 5-10 seconds, add 3 cups of fresh spinach and toss until it starts to wilt from the heated butter, garlic, and salmon juice. Remove spinach from pan after 1 minute or less.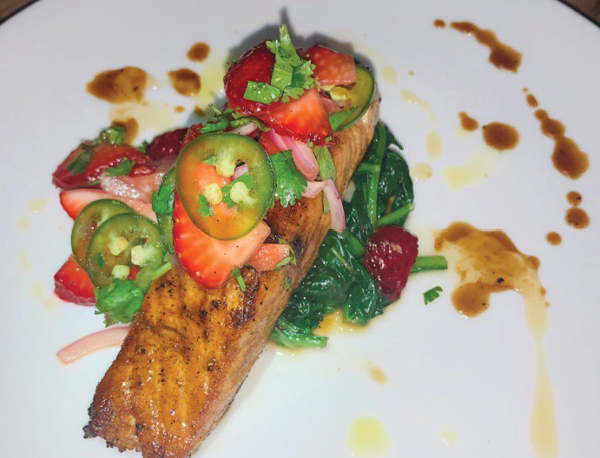 To Serve: Place spinach on plate with salmon on top and add strawberry salsa. Use a spoon to drizzle any remaining sauce on top.
Fresh Seasonal Strawberry Salsa (serves 2-4)
Juice and zest from 1 medium lime
1 ½ Teaspoon Wolf Trap Honey or raw honey
Pinch of kosher salt
1 Pint strawberries, sliced or diced
1 Jalapeño pepper, sliced or diced (remove seeds for less heat)
½ Small red onion, diced or thin slices
½ Cup chopped fresh cilantro
Fresh ground pepper to taste
Light drizzle of good Extra Virgin Olive Oil
½ Tablespoon aged balsamic vinegar
In a large bowl, mix together the lime juice, lime zest, honey, and salt.
Add in strawberries, jalapeño, red onion, and cilantro.
Gently toss together.
Taste – adjust to your taste by adding more honey to sweeten or more lime for acid and salt.
Drizzle in balsamic, taste, adjust if needed.
Add fresh cracked pepper to your taste.
Finish with just a little drizzle of good Extra Virgin Olive Oil.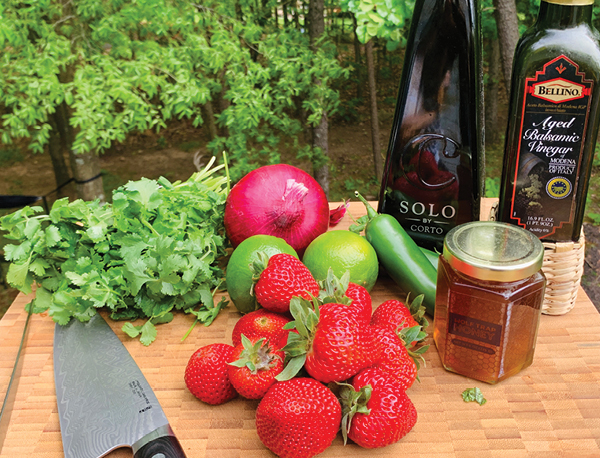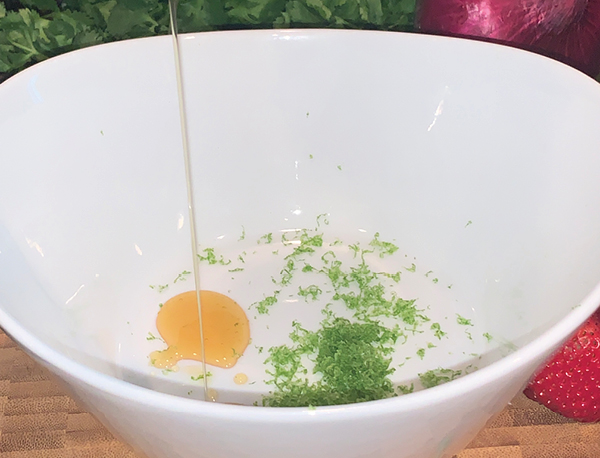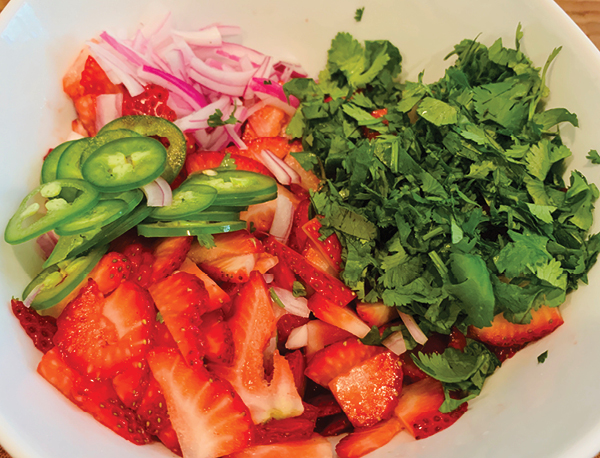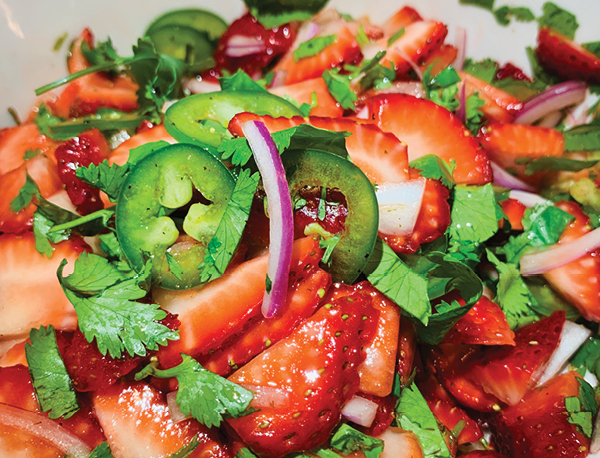 Recommended Posts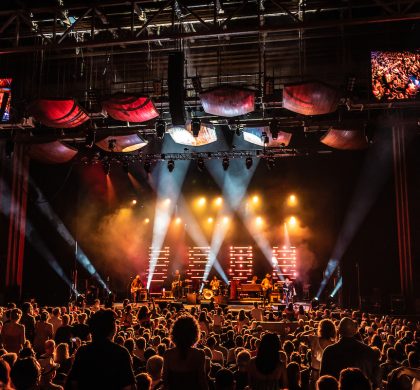 May 23, 2023 - Summer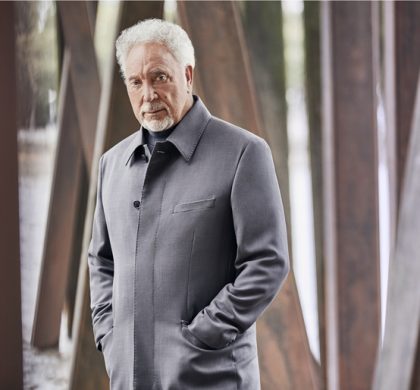 Sep 14, 2022 - Summer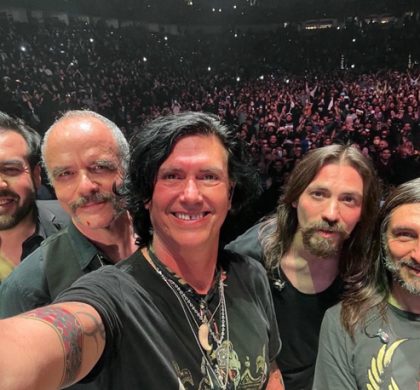 Aug 30, 2022 - Summer