---
Savor Your Summer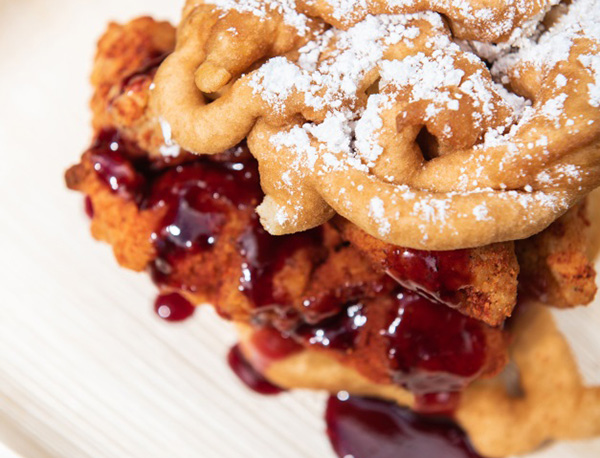 May 29, 2019
Ask anyone in line for the lawn rush with a cooler and picnic basket, and they will agree: good food is fundamental to the Wolf Trap experience. Luckily, if you don't want to pack your own picnic, or if you are looking to supplement your spread, our concessions team has you covered. We're not just grilling up hot dogs and chicken tenders (although we served more than 15,000 orders of those tasty items combined last year); summer 2019 boasts several new offerings to the menu. We visited with TJ Pluck, Director of Food and Beverage, to get the skinny on what's cookin' at Wolf Trap this summer.
LOVE A-FAIR WITH FOOD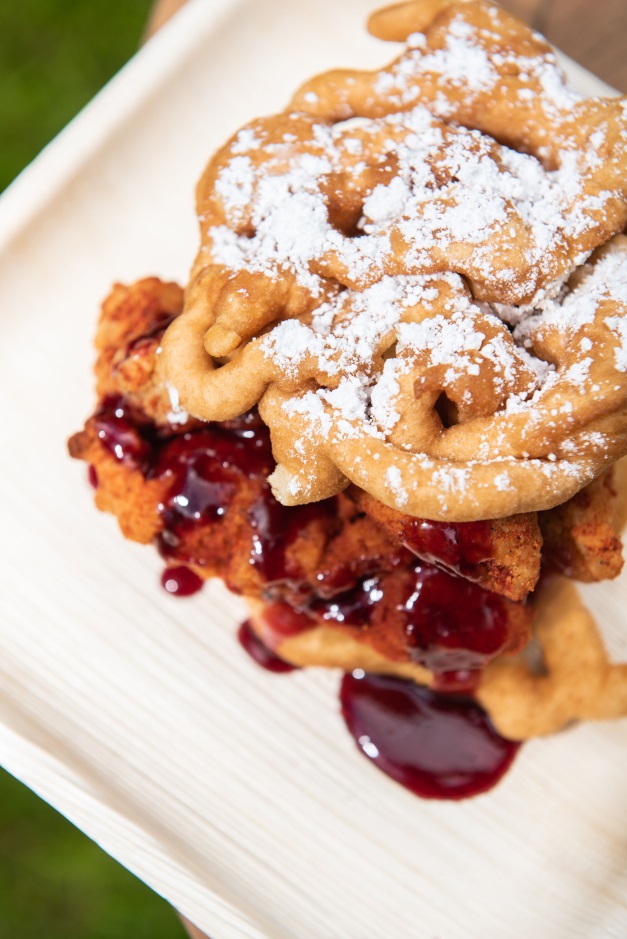 Pluck grew up in Ohio, and his summer memories include the small town fair food of his youth. Those days at the midway inspired the Chicken and Funnel Cake sandwich, a decadent and playful twist on chicken and waffles. The chicken breast is rubbed in a delectable raspberry chipotle spice blend that Pluck and his team discovered in New Orleans. It is nestled on a whole-grain funnel cake and drizzled with a raspberry coulis that gives it a "sweet heat." A festive dusting of powdered sugar finishes the dish, which is excellent to share on the lawn or on Instagram.
HEALTHY SUMMER FLAVORS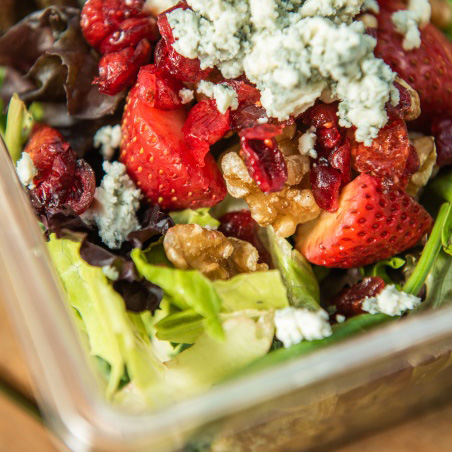 If you're looking for something a little lighter and gluten-free, try the new Strawberry & Walnut Salad.
"This is the first traditional salad we've tried at the Filene Center," Pluck notes. Fresh strawberries and hearty walnuts top a salad of mixed greens, with dried cranberries, blue cheese, and balsamic vinaigrette.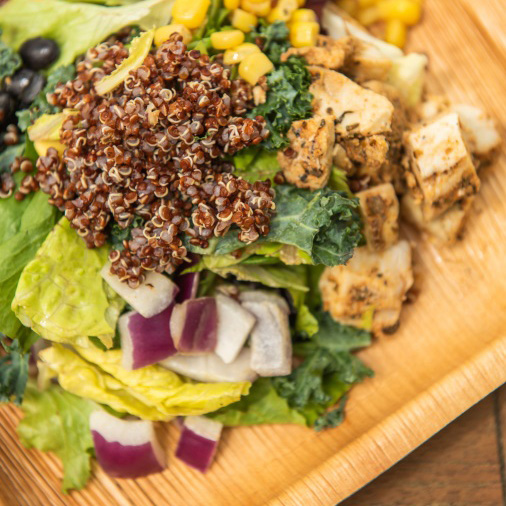 Another feel-good, gluten-free option is the Southwest Grilled Chicken Quinoa Bowl, with its mix of lettuce, corn, black beans, onions, and peppers in a tasty chipotle dressing. Both of these items can be adapted for vegan options.
SABORES MÁS GRANDES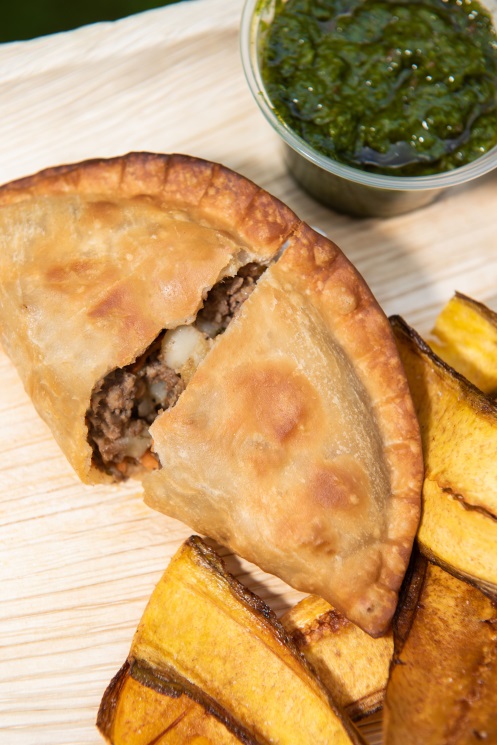 A royal addition to this summer's menu comes to us from the "Empanada Queen" of DC. All hail the lean, clean Grande Beef Empanada, by local company M'Panadas, in a 5 ounce size exclusive to Wolf Trap. This empanada, filled with flavorful grass-fed beef and garden-fresh veggies, eats like a meal with a side of crispy plantain chips and a chimichurri sauce. "With the diverse cultures in this area, we are seeing more ethnic foods and flavors trending in Food and Beverage operations. There could be more to come on this front," Pluck hints.
ICED OR HOT?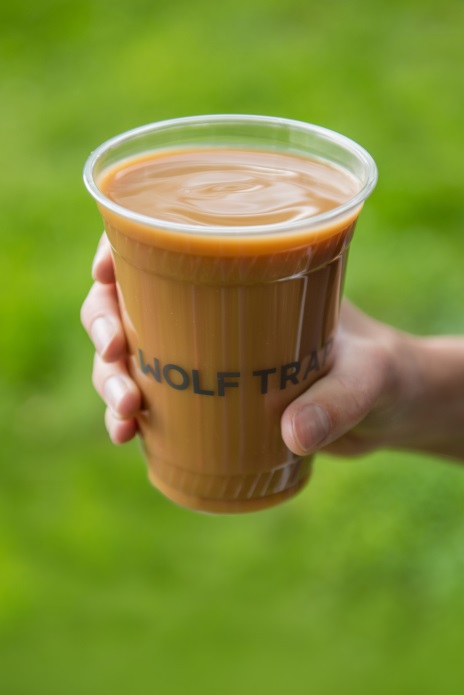 Even in the heat of summer, some still like it hot– their coffee, that is. We have partnered with Vienna's own Caffe Amouri to create an original Wolf Trap coffee blend. Artisanal, fair-trade beans from Papua New Guinea and Guatamala are roasted, blended, and ground here in Vienna for you to enjoy. If you prefer a cooler caffeine kick, we will also offer an iced version, strictly adhering to the local roaster's recipe for a refreshing boost that is never watered down. Our medium blend coffee will be available to enjoy at concessions, member events, and the Encore Circle Lounge.
You can also make it at home – bags of the ground beans will be for sale in our gift shop and at Caffe Amouri. Don't forget to show your membership card for a 10% discount at the Wolf Trap Gift Shop!
CHEERS FROM THE CROWD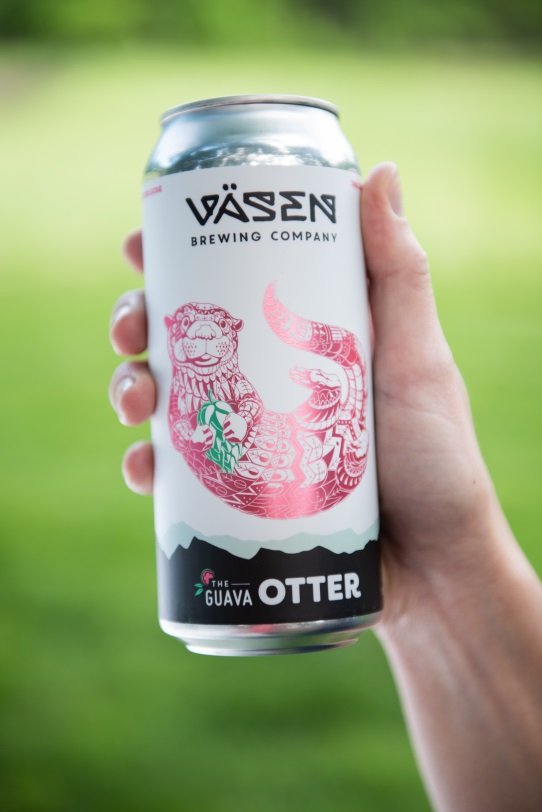 Wolf Trap fans 21 and older have some new drink options to explore this summer. If you're not afraid to drink pink (and you shouldn't be), Devils Backbone Hibiscus Hard Lemonade is a tart and slightly sweet, hop-brewed, Meyer Lemon delight. Richmond's Väsen Brewing Company, which is growing a reputation for its sour beers, is canning its Guava Otter gose for Wolf Trap. "Wolf Trap will be one of the only places to get this in Northern Virginia," Pluck mentions.
The Caboose Wolf Trap Summer Ale returns for a third year, with some favorable tweaks. Collaboration with our local vendors is a hallmark of our food and beverage program. "This brew will change with the trends of the always evolving beer culture," Pluck states. The new modifications result in an aromatic ale that is less bitter on the back end.
From a cocktail standpoint, we will introduce two vodka-based drinks: the Blood Orange Breeze– made with real fruit puree- and the Keto-friendly Cucumber Refresh, made with Spindrift Cucumber Sparkling Water. Cheers!
WOLF IT DOWN
With a diverse menu to match our array of artists, combined with many locally sourced foods and beverages, there is sure to be something to tempt your taste buds this summer at Wolf Trap. We look forward to seeing you often!
Recommended Posts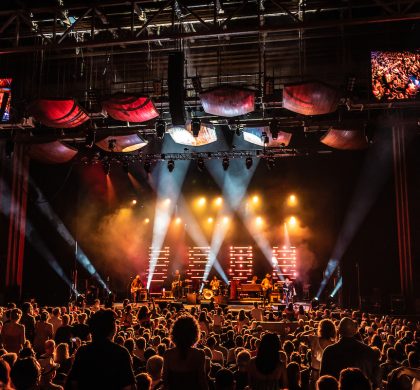 May 23, 2023 - Summer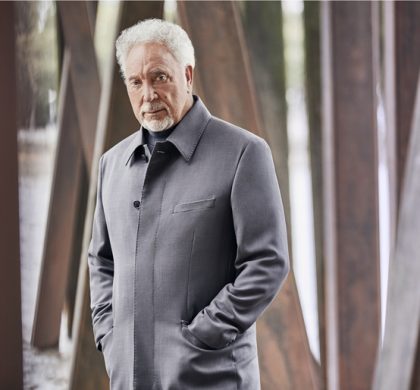 Sep 14, 2022 - Summer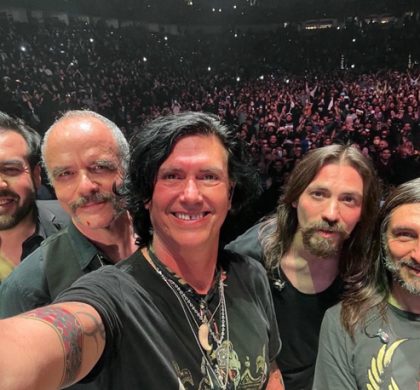 Aug 30, 2022 - Summer