---
Wolf Trap Founder Catherine Filene Shouse's Historical Marker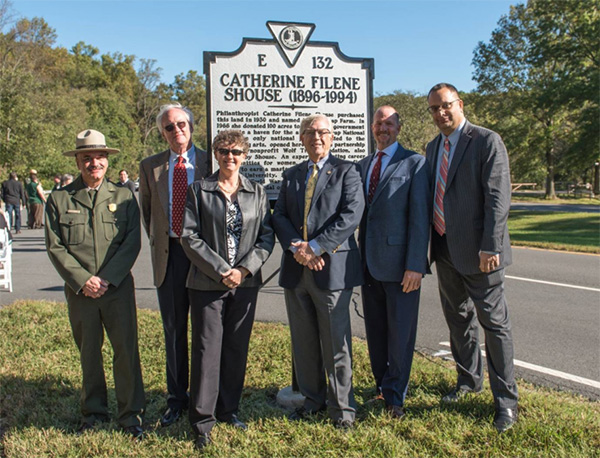 Oct 23, 2017
Next time you drive down Trap Road, take a look around, and you might notice something a little different near the Filene Center's West Parking Lot.
On October 18, Wolf Trap founder Catherine Filene Shouse's legacy and generosity were honored with the unveiling of a brand new Virginia Historical Highway Marker.
To celebrate, local community leaders, friends of Wolf Trap, staff, and members of the Shouse family joined together to dedicate this marker to Mrs. Shouse's vision of creating a cultural haven in Vienna for all to enjoy.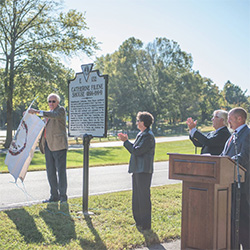 Speaking at the event were George Liffert, Superintendent, Wolf Trap National Park for the Performing Arts; Arvind Manocha, President and CEO, Wolf Trap Foundation for the Performing Arts; Clyde Smith, Chairman of the Virginia Board of Historic Resources; and Mrs. Shouse's great grandson David Robertson. Together, they shared and reflected on the immense impact that Mrs. Shouse left on the community.
Unveiled by Shouse family members—John J. Robertson, Dana Robertson, and David A. Robertson—Mrs. Shouse's marker joins more than 2,500 roadside markers in the Commonwealth. In fact, Virginia is home to the oldest historical marker program in the country and has recognized historical sites, buildings, events, and people of statewide and national interest since 1927.
Catherine Filene Shouse was a leader in the performing arts, politics, women's issues, and international affairs. A graduate of Wheaton College in Massachusetts, she was the first woman to receive a master's degree in education from Harvard University. For the majority of her life, she lived in and around Washington D.C., and knew all of the presidents from Woodrow Wilson to William Jefferson Clinton. Mrs. Shouse was an expert on creating career opportunities for women and a highly decorated public servant. President Gerald R. Ford presented her with the Presidential Medal of Freedom and Queen Elizabeth named her a Dame Commander of the British Empire.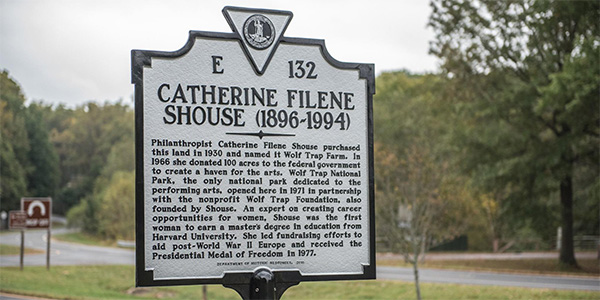 In 1930, Mrs. Shouse purchased land outside of Washington D.C. to serve as a refuge from city life and named it Wolf Trap Farm. Exactly 51 years ago in 1966, Mrs. Shouse donated 100 acres of the farm, as well as funds for a large outdoor amphitheater, to the federal government. Her dream was to create a place where the arts and nature could be appreciated together in harmony. Today, Wolf Trap remains the first and only National Park dedicated to the performing arts.
Wolf Trap Foundation is grateful to Mrs. Shouse's strong commitment to the performing arts and as our visitors drive down Trap Road, they'll see a special reminder of her profound legacy.
Cover Image: Wolf Trap National Park for the Performing Arts Superintendent George Liffert, John J. Robertson, Dana Robertson, Clyde Smith, David A. Robertson, Wolf Trap President and CEO Arvind Manocha
Recommended Posts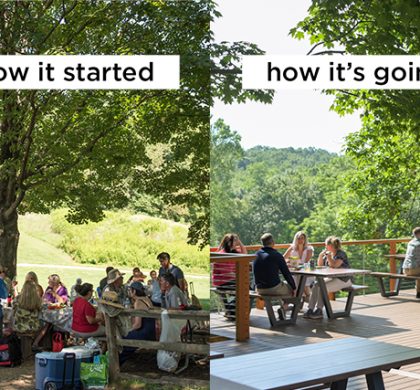 Aug 21, 2023 - Foundation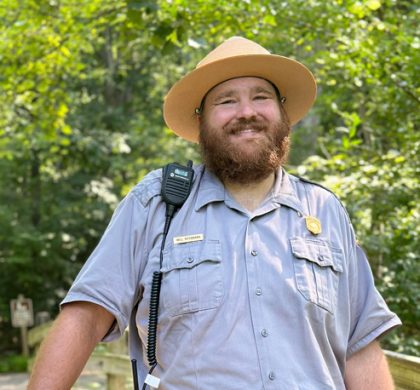 Jul 28, 2023 - NPS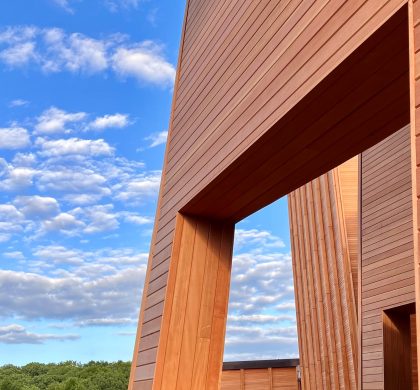 May 28, 2022 - Experience, Foundation