---
Q&A with Lara St. John, 2017-2018 Artistic Advisor for Chamber Music at The Barns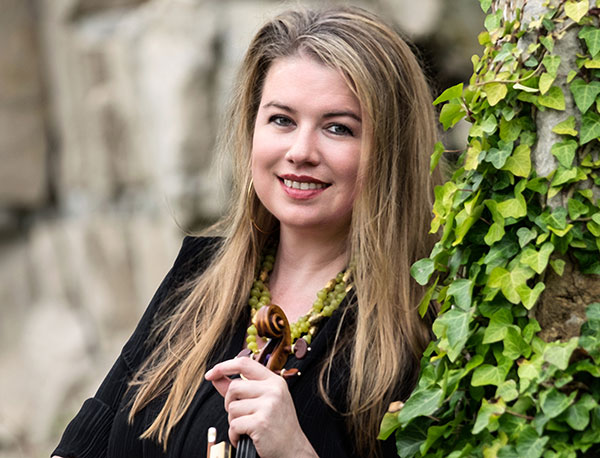 Oct 10, 2017
Next week, violinist Lara St. John—our 2017-2018 Artistic Advisor for Chamber Music at The Barns—will kick off Wolf Trap's Chamber series with a collaborative performance with pianist Matt Herskowitz. Canadian-born St. John has been described as "something of a phenomenon" by The Strad and a "high-powered soloist" by The New York Times. In addition to performing with numerous orchestras, St. John has created her own record label, Ancalagon Records, named after her former and much-loved giant pet lizard.
As Artistic Advisor, Lara St. John has planned several fantastic Chamber performances that emphasize the influence folk music has had on the development of classical music. Prior to her show, we had a chance to catch up with St. John and find out just how she decided which artists to feature this year:
Wolf Trap (WT): We are excited to welcome you as this year's Artistic Advisor for Chamber Music at The Barns. Congratulations!  Much of your programming for this year's Chamber series has been inspired by your international travels and interest in showcasing the influence folk music has had on the development of classical music. What were some of the travel experiences that inspired you to explore this idea in your own work and in the Chamber series?
Lara St. John (LSJ): Well, as a child of 11, I visited Hungary for the first time and was entranced by the music seemingly emanating from every window – classical, folk, and Roma. Even prior to that visit, I gravitated toward folk music pieces (Acadian, Old Time and Celtic fiddle, and 'classical' violin) inspired by Roma music—there are many! I learned to recognize folk influences in nearly every composer's work, and thereby became fascinated by the music written by an individual taking inspiration from the music of many. I ended up living in Moscow for a year, and travelling around the Balkans and Caucasus, always keeping an ear cocked for the next tune.
WT: Several of the artists featured in this year's Chamber series are fairly young and emerging in the classical music world. Was this something you considered when planning the season and why?
LSJ: One thing I certainly considered was to schedule concerts that I would want to attend and that younger people would find inspiring. Although it can be wonderful to hear long-established musicians play well-known pieces, I am more interested in how new generations are interpreting and adding to the repertoire.
This season sees the debuts of 22-year-old Cameron Crozman (cello), and the SPHINXtravaganza artists including Ifetayo Ali (15), Hannah White (18), and Xavier Foley (21). Also performing for the first time at Wolf Trap is the Attacca Quartet (the average member age is 31) and, astonishingly enough, Marc-André Hamelin at the age of 56! All of this comes together in the final concert, where John Corigliano will be present for his 80th birthday tribute featuring the debuts of 17-year-old Sterling Elliott and the PubliQuartet. So, really, it's the whole gamut of ages!
WT: You've played at The Barns before during your 2009 Wolf Trap debut. Is there anything that has drawn you back to The Barns? And, what are you looking forward to about performing here this year?
LSJ: Well, it's a fantastic venue sonically, visually, and historically. The capacity of just under 400 is perfect for a recital—not too small but still intimate—and the height and age of the wood somehow feels very appropriate for these instruments, which were built around the same time.
My debut recital was on the heavy side with works by Bartok, Schoenberg, and a premiere by Matthew Hindson inspired by nuclear testing in the Australian province of Maralinga. This time it'll be, if not lighter, certainly more accessible with the great romantic Franck Sonata and many folk-inspired works from my Lavuta Project.*
* The Lavuta Project, performed by Lara St. John and Matt Herskowitz, includes works by César Franck, George Gershwin, and Matt Herskowitz. The project combines classical duos with reimagined folk tunes from the Jewish Diaspora, Eastern Europe, Balkans, and Middle East.
WT: The first show of the Chamber series is one you will play with pianist Matt Herskowitz. The two of you have spent several years working together on various projects. What does the collaboration process usually look like between you two?
LSJ: One fascinating facet of Matt is that he comes at classical and 20th century warhorses (Franck, Beethoven, Ravel, Debussy, Bartok, Szymanowski, etc) with an entirely fresh perspective. His early life was classical (thus the dazzling technique), but his adult life has been mostly jazz and world music, so he has no pre-conceived notions about these works. We question everything and try anything, and end up with unique interpretations. And, my Eastern European projects often involve free improvisation, which is one of his specialties.
Also, we somehow have an uncanny ability to know exactly what the other is going to do. Occasionally, in a light-hearted encore, I'll do the opposite of what we decided (to keep him on his toes), and nearly every time he'll catch it before it even happens. Weird.
WT: Everyone who loves chamber music is always eager to introduce people to this wonderful, intimate art form. If you were to come across someone who says that chamber music is not for them or they don't understand it, what would you say about the art form?
LSJ: I think there is a perception that chamber music can be dull, which does happen from time to time when players are not fully involved or are not well connected to each other. However, I have heard every performer on this year's season many times, and I'm utterly confident that each very distinct concert will be brimming with intensity, dedication, energy and innovation.
WT: We know you currently have a giant lizard named Kalessin 'Baby' Cain Iguana St. John and that your previous iguana, Ancalagon, loved Beethoven—is there a specific composer that Baby Cain also enjoys? And, are there any artists from this Chamber season that you think Baby Cain would be most excited about?
LSJ: Well, Baby Cain seems to be more interested in food than anything else – he's quite chubby! He does seem to like watching rehearsals, but doesn't react to anything except bass. So he'd probably be really into Xavier Foley's playing in SPHINXtravaganza!
You can catch Lara St. John's performance with Matt Herskowitz at The Barns on Friday, October 20 at 7:30 p.m. For tickets and more information to Lara St. John's show, visit www.wolftrap.org
Recommended Posts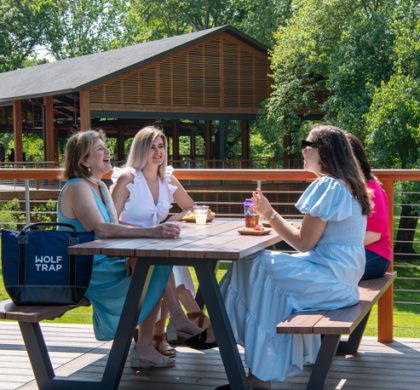 Jul 24, 2023 - Experience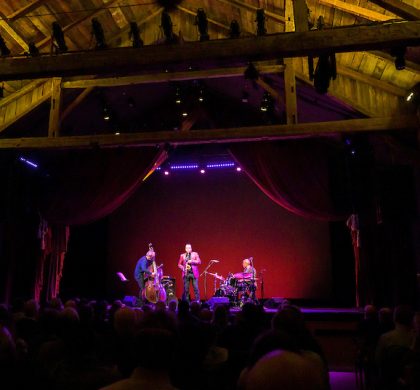 Mar 02, 2023 - The Barns