---
A National Conversation on Learning Through the Arts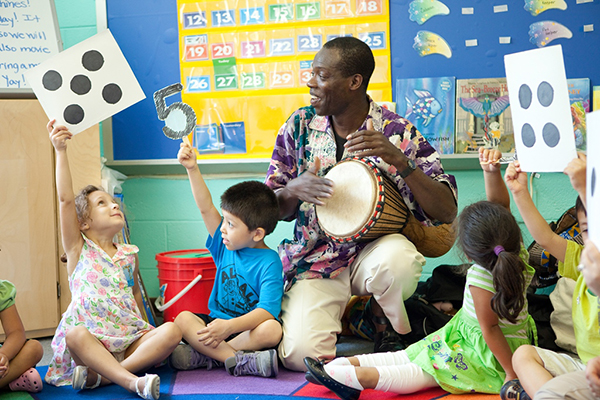 Aug 19, 2016
"Arts education isn't something we add on after we've achieved other priorities like raising test scores and getting kids into college. It's actually critical for achieving those priorities in the first place." –FIRST LADY MICHELLE OBAMA
There's an exciting conversation taking place in our country right now. And a powerful mix of people doing the talking—everyone from the First Lady to the U.S. Secretary of Education; from famous musicians to decision- makers on Capitol Hill; and from teachers and parents nationwide to all of us here at Wolf Trap.
As a nation, we're talking about mounting evidence that integrating the arts into education improves learning outcomes — especially in early childhood, the essential but narrow window during which children acquire fundamental skills for success in school and in life.
In 2014, the President's Committee on the Arts and the Humanities released research on its Turnaround Arts program, which brings the arts into some of the nation's lowest-performing schools to close the achievement gap and improve school culture. The study showed that students in participating schools performed materially better in reading and math, attendance rates rose, and suspensions dropped.

Given such promising results, Turnaround Arts recently expanded to include pre-K and kindergarten classrooms. Its search for a partner with deep early childhood expertise led directly to Wolf Trap Institute for Early Learning Through the Arts.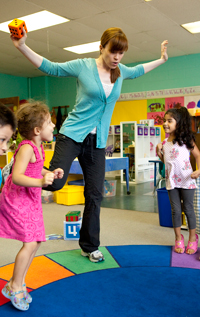 How exactly do the arts improve early childhood education?
Music helps children recognize and recreate rhythm and patterns, essential components of reading and math.
Drama and role-play teach children to verbalize feelings, work cooperatively, and understand different viewpoints.
Dance is all about sequence and patterns, the basis for algebraic thinking and a widely-recognized building block for future success in math.
For 35 years, Wolf Trap Institute has worked in classrooms nationwide, using drama, music, and dance to help young children learn. At the center of its approach is professional development — training teachers to integrate the arts into instruction — to improve teachers' effectiveness and students' learning, long after Wolf Trap has left the classroom. Numerous studies have shown the promise and proven benefits of Wolf Trap Institute's methods.
Most recently, an independent study — funded by the U.S. Department of Education and conducted in Fairfax County — found that students in classrooms with Wolf Trap-trained teachers gained 1.3 months of math learning. That's the equivalent of extending a school year by five weeks!
Follow-up research the next school year showed sustained positive impact on these children's math abilities.
Wolf Trap Institute now provides ongoing professional development to Turnaround Arts schools and staff nationwide, building a community of educators with the knowledge, skills, and confidence to make arts-based learning a core component of early childhood education.
Leading the nation in early childhood education and the arts
Wolf Trap Institute has grown steadily over three decades — working in more than 1,100 classrooms in 2015-16. Its nationwide network includes affiliate organizations; hundreds of school districts; policymakers; national partners like Turnaround Arts; and public and private funders — all of which embrace the arts as a vital tool for early childhood education. Led by arts education and early childhood experts at Wolf Trap Foundation, sixteen affiliated organizations replicate the Wolf Trap Institute model at the regional level. Together, they provide high-quality instruction for nearly 60,000 children, their teachers, and their parents each year. In many communities, Wolf Trap Institute's affiliates target services to economically disadvantaged families who may be most in need of effective strategies to improve student outcomes. "Wolf Trap patrons are a part of the arts and early childhood movement," says Arvind Manocha, President and CEO of Wolf Trap Foundation. "Every time you buy a ticket to a Filene Center performance or donate to Wolf Trap Foundation, you are playing a role in giving our youngest learners a better chance of success."
For more information, visit wolftrap.org/education.
Recommended Posts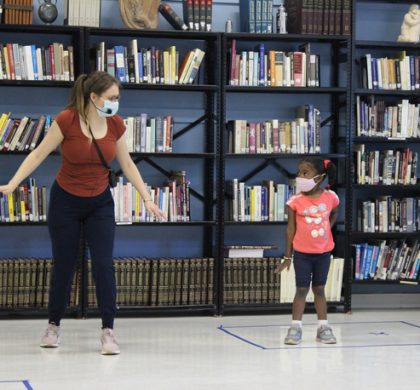 Nov 28, 2023 - Education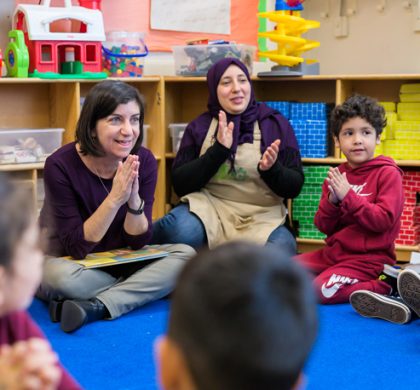 Nov 08, 2023 - Education