---
The U.S. Secretary of Education Learns About Learning Through the Arts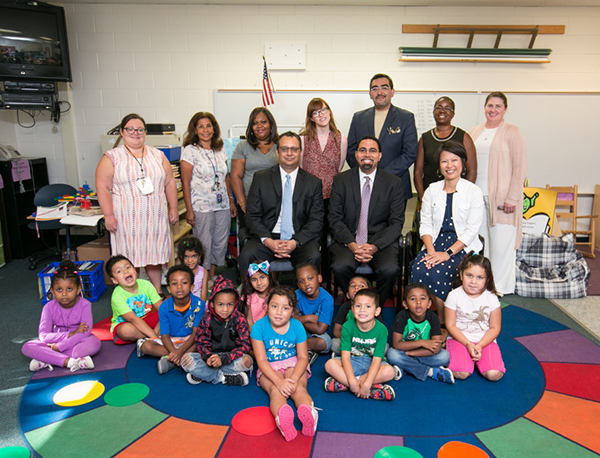 Jul 27, 2016
Ms. Emily Davis and her preschoolers had a very special visitor this week: U.S. Secretary of Education John King stopped by Dogwood Elementary School in Reston, Virginia, to learn about the work Wolf Trap Institute for Early Learning Through the Arts is doing to train early childhood teachers and create positive learning experiences for students.
Dr. King, a former teacher himself, requested to visit a Wolf Trap Institute classroom to observe arts integration "in action." Education leaders are looking for programs that measurably impact student achievement, and numerous studies – including research on Wolf Trap's programs – and decades of practice show that the performing arts are an effective teaching tool. In addition, Dr. King is a major supporter of teachers, and Wolf Trap Institute is known for its high-quality professional development model, which engages professional Teaching Artists as partners, coaches, and mentors to classroom teachers.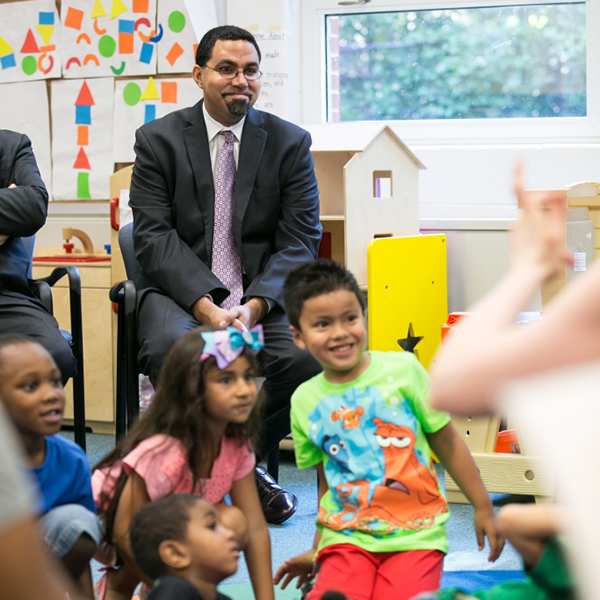 Dr. King makes his first visit a Wolf Trap Institute classroom to learn about arts integration in early childhood settings.
Dr. King observed the culminating lesson of a one-week residency in a Head Start class co-taught by Wolf Trap Master Teaching Artist Amanda Whiteman and Ms. Emily. He watched as the teacher and Amanda worked together, using the classic story of The Three Little Pigs to help children acquire and practice language skills, and learn engineering concepts. For example, the students played the parts of straw, stick, and brick building materials, embodying the differences between those materials and making predictions about how each material might behave in different contexts.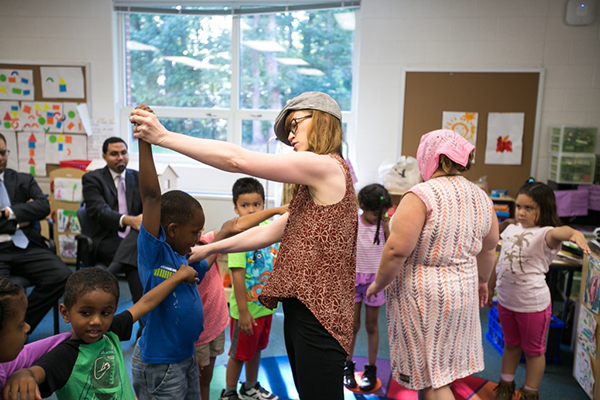 Here, Amanda works with students to embody the properties of building materials, while Dr. King looks on.
Afterwards, Dr. King met with Wolf Trap Institute and Fairfax County Public School staffs to discuss why arts-integrated teaching works.
Amanda, who has trained hundreds of educators during her 10 years as a Wolf Trap Teaching Artist, explained that early childhood educators are under a lot of pressure to prepare their students for first grade. Most teachers she partners with embrace arts integration as part of their teaching practice once they understand that it facilitates and enhances their lessons, rather than being an "extra" that takes time away from lessons.
Principal Mie Devers was delighted with the lesson, saying, "The curriculum is what it is; children are going to receive it one way or another. But with arts integration, they're getting it in a fun, engaging way…If it works this well for my four-year-olds, I want to see what it could do for my whole school."
Turning to the classroom teachers, Dr. King asked, "What resources would you need to do more arts integration?"
"I would need a coach and a partner like Amanda," replied Ms. Emily. "Someone to support my practice and help me 'do' arts-based lessons well."
Dr. King concluded by saying, "What a joy to start my Monday with these students… Wolf Trap Institute is a great example of creative teaching, arts integration and instilling joy of learning at an early age."
The Wolf Trap team is honored that Dr. King chose to visit a Wolf Trap Institute classroom, and grateful for the support and partnership of the US Department of Education, Fairfax County Public Schools, and the many partners nationwide who are using Wolf Trap Institute's professional development programs and resources in their classrooms.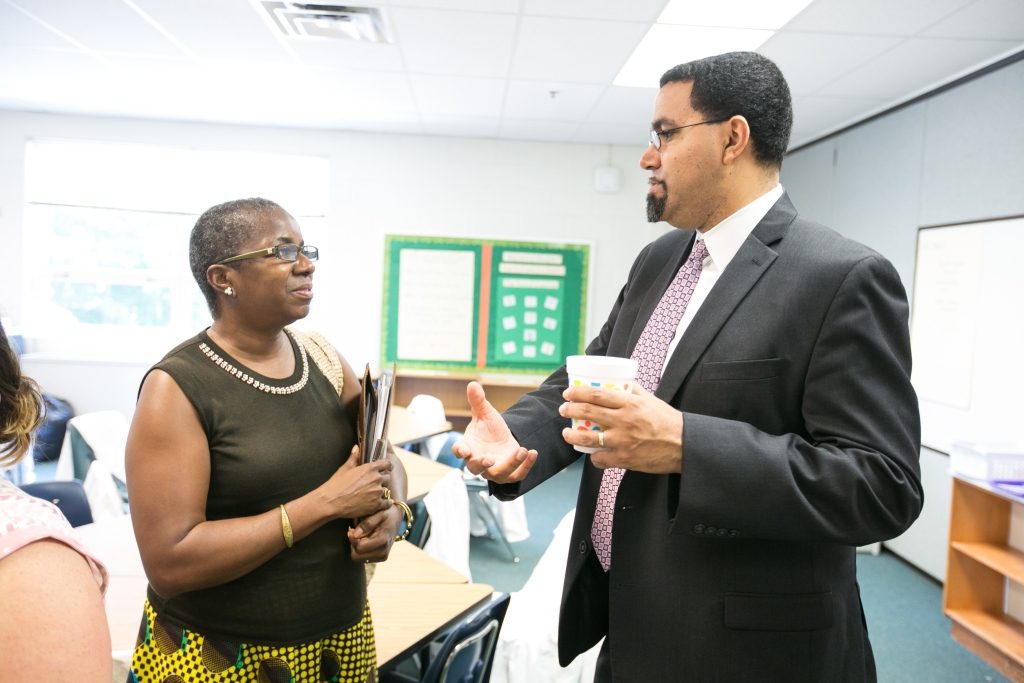 Wolf Trap's Senior Director, Education, Akua Kouyate-Tate, speaks with Dr. King about the importance of high-quality professional development and ongoing support for teachers.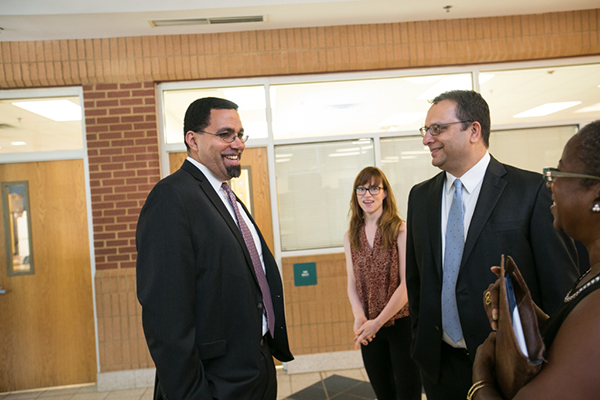 Dr. King (left) is greeted by Wolf Trap Master Teaching Artist Amanda Whiteman, Wolf Trap Foundation CEO Arvind Manocha, and Wolf Trap Senior Director, Education, Akua Kouyate-Tate.
Recommended Posts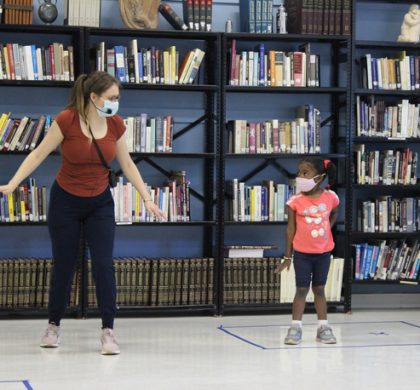 Nov 28, 2023 - Education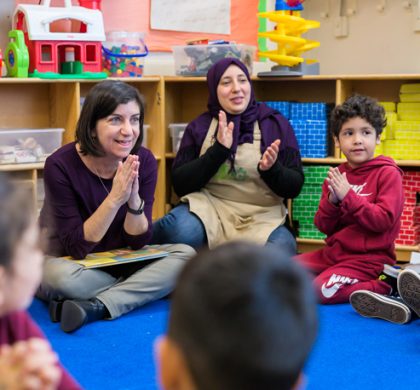 Nov 08, 2023 - Education