---
Summer Family Activities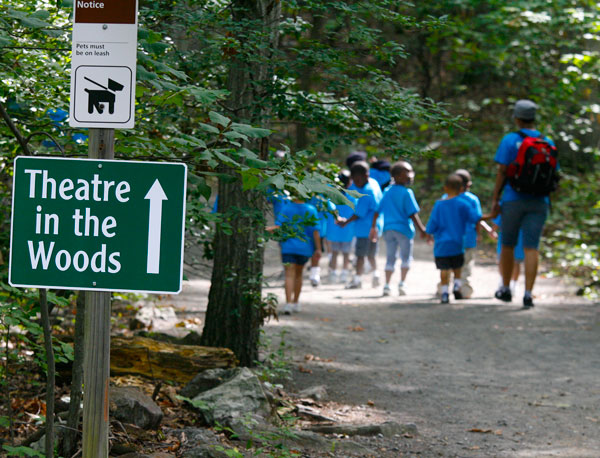 Jun 19, 2015
Wolf Trap Education shares summer-themed arts ideas to enjoy with your little ones and let their imaginations shine!
Summertime—it's every child's delight. Sprinklers and pools, fireflies and ice cream trucks, and long sunny days bring hours of outdoor fun. For parents and caregivers, however, the memory-making joys of summer breaks also mean hours of finding ways to keep little ones happy and engaged during vacation road trips and hot afternoons at home.
Even though schools are out, you can still encourage your children's love of learning and bring the whole family together through creative play. The staff and Teaching Artists of Wolf Trap's renowned arts education programs offer some fun, easy ideas for enjoying the arts together this season.
Make a day of it at Children's Theatre-in-the-Woods
Across the bridge over the brook and nestled among the trees in the Wolf Trap National Park for the Performing Arts, Wolf Trap Children's Theatre-in-the-Woods is a magical outdoor venue with daily shows from late June through early August by some of the finest children's entertainers in the world. Shows are suitable for children of many ages, and children under 2 enter free.
The meadow beside the entrance is always open for a picnic lunch after the show, but special programs on certain days offer hands-on arts experiences to round out the trip. The National Park Service brings the arts and nature together for children ages 5-12 on Junior Ranger Days. On July 21 and 22, the "intergenerational dance party" hip hop performance by Alphabet Rockers will be followed by an energetic, educational and hip workshop for kids. They'll learn fun and easy dance moves, beatboxing and theatre games all aligned to Common Core Standards.
Whet your imaginations in the water
Another experience chock-full of possibility, offers Carroll, uses the book Ducky by Eve Bunting to introduce dramatic play in the pool. Start by hiding rubber ducks or other floating toys around the house or pool area and having children hunt for them and throw them in the water. Together, count how many toys there are.
Next, let children take on the roles of the sharks and sea serpents who try to eat the toys. They can do this either by using bath mitts as simple puppets or by moving their bodies like their characters. Ask them to show you with their faces how they're feeling. Tell them to pretend to eat the toys they catch by taking them out of the water. At the end of the roleplay, help them count how many toys they ate and how many are still in the water—a great way to reinforce basic math skills while splashing around!
Transform a flip flop
Wolf Trap Master Teaching Artist Valerie Carroll, one of the instructors for Wolf Trap Education's signature Artsplay!™ and Baby Artsplay!™ caregiver-child classes, suggests using the book Flip Flops by Nancy Cote as a jumping-off point for your child's imagination. How many uses can you come up with for a flip flop besides wearing it, like the character of Penny in the book does? Choose other items from a beach trip—a towel, a shovel, a shell—and help your children re-invent them as well. This experience could become a creative way to fill a long drive to or from a beach trip!
Cool off in the shade with a good book
When it gets too hot to play, reading summer-themed books together is a wonderful way to foster children's literacy skills and encourage their desire to explore and learn about the natural wonders of the season. For very small children, Anna Grossnickle Hines' What Can You Do in the Sun? introduces lots of ideas for outdoor play. Robert Kalan and Byron Barton's Jump, Frog, Jump! tells a cumulative story that builds step-by-step and inspires children to chant the title's refrain.
Valerie Carroll recommends the book Hello, Ocean! by Pam Munoz Ryan, illustrated by Mark Astrella. It introduces the rich seashore environment and can either build excitement for a family trip to the beach, or be used for an imaginary journey. She suggests finding gestures for different pictures in the book, such as flapping for seagulls, swaying for seaweed, or skittering for crabs and using them to make simple ocean dances together.
Lori Phillips, Associate Director for Professional Development in the Institute for Early Learning Through the Arts, also recommends these nature-themed children's books for summer reading:
Artsplay!™ and Baby Artsplay!™
The arts encourage learning year-round. Wolf Trap's Artsplay!™ and Baby Artsplay!™ classes are designed to foster the bonds between children from infancy through age 6 with their parents, grandparents, educators, and caregivers while encouraging self-expression and imaginative play. Through music, movement, and drama experiences like the ones in this article, children's social and emotional skills, early literacy, and intellectual and physical development is supported.
Artsplay!™ and Baby Artsplay!™ sessions are available to the community free of charge through the Prince George's County library system this summer.
Baby Artsplay!™ with Yvette Holt will take place Thursdays from 10-11 am running June 18 – August 20 in Hyattsville
Artsplay!™ with Kofi Dennis will take place Tuesdays between 4-5 pm from June 23 – August 25 at Greenbelt
Space is limited, so call the library system at 301.699.3500 to find out how to enjoy more arts-based experiences with your child under the guidance of a professional Wolf Trap Teaching Artist.
Recommended Posts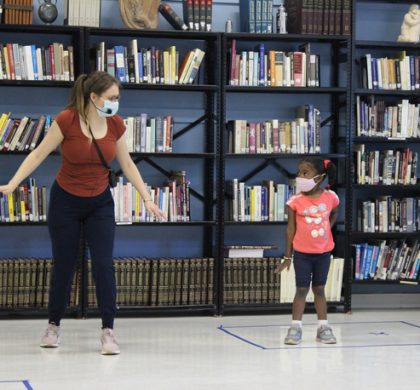 Nov 28, 2023 - Education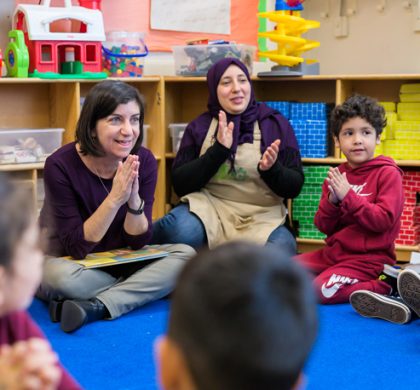 Nov 08, 2023 - Education