---
Bees and the Nature of Things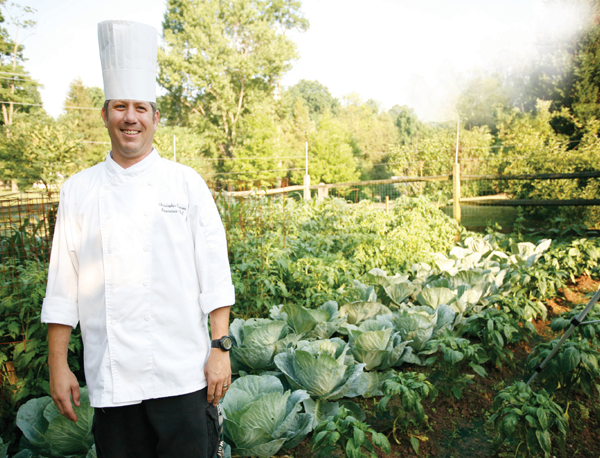 Jun 17, 2015
In the past few years, chefs from five-star restaurants to local co-ops have taken up beekeeping. Wolf Trap's Executive Chef Chris Faessen is among them.
"In 2011, I found myself a guest at the annual White House Easter Egg Roll, where I spotted the First Lady's organic garden, and then, just down the path, an official beehive," says Faessen.
He learned that beehives were installed to keep fruits and vegetables from the First Garden pollinated and healthy, while infusing presidential recipes with local honey.
Within a year, Faessen was doing the same for Wolf Trap's guests by harvesting bees to pollinate the forests and gardens around Wolf Trap National Park.
Why do bees matter?
From the infamous "birds and bees" conversation, you probably have a good idea that bees play some role in reproduction. They do. Without bees to pollinate flowers and plants, you'd find the produce section at your supermarket half bare. And far fewer flowers to enjoy in your backyard.
On a broader scale, the world depends on honeybees to pollinate crops worth billions of dollars. There are 100 crop species that provide 90% of our global food supply; 71 are bee-pollinated. And yet, bee populations are in a precipitous decline, increasing the threat of global hunger.
World leaders are undertaking large measures to address this issue. But a growing number of individuals and organizations like Wolf Trap are also doing their part.
"In an era of dwindling resources," notes Faessen, "Wolf Trap has a responsibility to sustain its own ecosystem as much as possible. That means keeping our forest and plants flourishing through new techniques like beekeeping."
So how does one become a beekeeper?
"As you can imagine," Faessen laughs, "YouTube had a ton of instructional videos on beekeeping. But I knew Wolf Trap wanted more than a fly-by-night operation (no pun intended)."
He turned to Prince William Regional Beekeepers Association, a valuable resource to this day. The Association began by offering a "foster" bee program of sorts: bringing temporary hives to Wolf Trap, maintaining them all summer as Faessen watched and learned, and then taking them back when winter came. "I guess they deemed us fit for full-time parenthood, which is good because I was all in at that point," says Faessen.
Faessen then enrolled in a twelve-week course where he learned (almost) everything about the art, and sting, of beekeeping. He also got the crazy white space-looking suit his son associates with the 2007 animated blockbuster, Bee Movie.
The next big milestone: Wolf Trap acquired its first very own two hives in 2012—with Faessen, and his queen bees, at the helm.
What does Wolf Trap hope to achieve?
#1: Increase pollination of plants throughout the park, across the county, and in Wolf Trap's organic garden
"One of the things I find so interesting is that bees will fly up to a six mile radius from the hive to forage for nectar," says Faessen. "This means we are not only improving pollination here at Wolf Trap, but in Meadowlark Botanical Gardens and small farms, gardens, and parks in surrounding towns. As I buy more local foods, I know our bees, or others from small operations like ours, may have played a role in the health of those products."
#2: Increase Wolf Trap's farm-to-table commitment by adding honey to the growing list of foods harvested on-site or sourced locally
In addition to the environmental benefits, Wolf Trap members are now being treated to home-grown honey and honey-infused recipes at special events. Faessen has also harvested enough wax to make lip balm, hand soap, and other natural products that will be available to supporters in the coming year.
"I can already tell we've created something special here," says Faessen. "I've had tremendous mentors and models and am now passing on what I've learned to three mentees this summer."
Faessen concludes: "The number of individual beekeepers—whether neighbors, chefs, organizations with rooftops, or small farmers—is growing every day. I'm proud to add Wolf Trap to this meaningful network for change."
"Our sustainability efforts are a logical extension of our mission," says Arvind Manocha, President, Wolf Trap Foundation. "From a performance standpoint, we're committed to preserving an environment where the arts feel truly alive and at one with the natural world. From a community standpoint, we have the ability to shine a spotlight on issues beyond the stage, along with creative ways to make a difference."
For recipes from Executive Chef Chris Faessen, visit wolftrap.org/recipes
For more on beekeeping, visit http://pwrbeekeepers.com or http://sweetvirginia.org/
*Funding for this program comes from Barkdull Fund of the Community Foundation for Northern Virginia and an anonymous donor.
Recommended Posts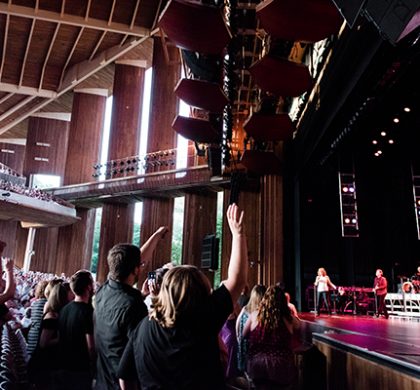 Mar 23, 2021 - Foundation, Summer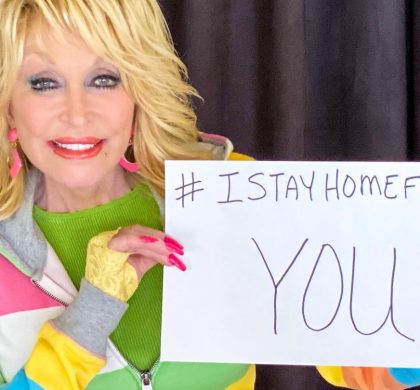 Feb 12, 2021 - Foundation